GOAN VOICE DAILY NEWSLETTER SATURDAY 20 SEP. 2014
Obituary
Death: Marianna Mendes

18 Sep: Verna, Goa. MARIANNA GOES e MENDES. Born 1918; ex-Nairobi. Wife of late Mr Menino Mendes. Loving Sons, Daughters-in-law, Grandchildren & Great Grandsons: Jerome & Anastasia Mendes, William, Eva, Jonathan & James, Sharon & Sukor; Domnic & Mila Mendes, Michelle, Edward & Ryan; Late Stephano Mendes, Manuel & Agnes Mendes, Tanya, Joakim, Denise & Daniel; Jack & Juanita Mendes, Jasmine & Jermaine; Santana & Filomena Mendes. Funeral Cortege will leave her residence on September 19 at 4.00 p.m. Villa Sharon, Verna, Goa for an Eucharistic Celebration Mass at Holy Cross Church, Verna followed by burial at Verna Cemetery. Condolences to jeromemendes@hotmail.com
For more details, click here.
---
Mombasa Mourns Educationist Swafia Salim Muhashamy
19 Sep: Coastweek (Kenya). Swafia Salim Muhashamy – pioneer of integrated education scheme - passed away on September 14, 2014. She was one of the most distinguished 'Hijab' educationist and was a popular teacher at the Aga Khan Secondary School … She received her primary and secondary education at the Goan Schools and used to inform her fellow students about Islam … 428 words. click here.
---
News Summary
Video: The Blesed Joseph Vaz Miracle


19 Sep: Prudent Media. Father Cosme Costa of Pilar speaks to Prudent about the miracle of Blesed Joseph Vaz in 1938 when he was born. click here
Herald first to convey news to 'miracle child' Fr Cosme. 19 Sep. Herald. … it was a momentous occasion for a Pilar father… He said, "It was the great faith of my mother that saved my life through the intercession and intervention of Fr Joseph Vaz, which led to his being on the altar." Fr Costa, a native of Aldona is presently serving at the Pilar Theological College… Despite numerous miracles attributed to Blessed Joseph Vaz, only one miracle – the birth of Fr Costa – was officially recognized by the Vatican… click here
The Whistleblowers
19 Sep: The Hindu. Maria Rebello and Uvena Fernandes from the south Goan towns of Curtorim and Palolem, respectively, are the first Indian women to officiate at the Asian Games. Together with referees from other Asian countries, Fernandes and Rebello will have control of the 13 women's football games… "Both my brothers used to play a lot of football; my younger brother played for Vasco (a Goan club). Growing up, I played with them all the time," says Rebello. At 42, she is the country's senior-most woman referee, officiating in 40 to 55 matches a year… For Fernandes, 31, football has always been a passion… 880 words. click here
Hema Sardesai to perform at Gospel Music concert in Goa

19 Sep: Daily News & Analysis. Goa-born singer Hema Sardesai will croon for the Gospel Music concert in the state, which would be her first ever performance in this genre. "I have sung in Papal mass when Pope was in Goa way back in 1986. I have also sung in the album for St Francis Xavier. But this will be my first ever performance in Gospel Music," Sardesai said. The concert would be held on September 23 in Ravindra Bhavan in Margao… click here
Back in Goa
19 Sep. Travel Dispatches (in German). By Johannes Klaus. Thirteen years ago, on my first big trip, I had a great time in Goa ... Some friends told me in subsequent years of their visits to Goa and that the good times were over. And I thought that maybe I should never go back there again to ensure that my great memories were not lost … An invitation to a wedding in Goa was always reason enough to forget these concerns… My fear was unfounded. For I have not lost my old memories, they were only updated … Photos. click here
Neha Naik dined with US President Barack Obama

19 Sep: Herald. It is not an everyday thing, well, it is not even a once in a lifetime thing for one to open their inbox and find a dinner invite from the most powerful man in the world. But that is exactly what happened to Neha Naik who has origins in Keri, Bicholim. She and 12 other differently abled people from over the world were invited to dine with Barack Obama … Twenty- four- year- old Neha, who was the only one to be invited from India, has been a Special Olympics International Global Messenger since the last six years… click here
Catholic synod: What Indian women want from the global meet
19 Sep: Hindustan Times. Next month, the Catholic Church will hold a synod, or meeting, in Rome, on the challenges faced by its families in a fast-changing world. To prepare for the event, churchgoers were asked for their views on issues that needed to be discussed. In Mumbai, the questionnaire was answered by nearly a thousand people. The findings are disquieting: the church's ideas on issues such as prayer, contraceptive use and divorce are no longer taken as god's word by a large section of its members… Auxiliary bishop from Mumbai Agnelo Gracias says that changes were made in the questionnaire to look at Indian concerns. He says that, for instance, the issue of same sex marriages and cohabitation were not found to be of much relevance to India… 702 words.
16 Sep: UCAN. Does the Church have it right on family teachings in India? … click here
Sammy Tavares goes to Uncle Sam

19 Sep: Herald. While Deputy Superintendent of Police, Sammy Tavares may have gathered a large fan following in Goa, he is now set to up the ante, with his tiatr ' Tim Thikam Sanddlelim' set to become the first of its kind to ever be staged in America. The tiatr troupe led by the lawman will head to the United States to perform two renditions of the play in early October… While tiatr has been made popular by travelling artists in the Middle-East, the United Kingdom and even Canada, the stage form has never gone across to the United States of America, with Sammy's production set to break the mould. The tiatr will be staged twice; the first in Houston on October 4, followed by an October 5 performance in New Jersey... click here
Bank of England plans for Indian banks slammed
19 Sep: India Weekly (UK). Leading Indian entrepreneurs have described new rules by the Bank of England, which could lead to the closure of several Indian bank branches, as "draconian measures" that could potentially "harm small ethnic businesses". At least seven foreign-owned retail bank branches in the UK, including Indian entities, could be forced to close in a crackdown on overseas financial institutions as Britain seeks to protect its economy… deposit-taking foreign banks that want to remain a branch must have less than £100 million in account balances and fewer than 5,000 customers… The five Indian banks which operate branches in the UK and cater mainly to the large Indian diaspora are Bank of Baroda, Bank of India, Export-Import Bank of India, Syndicate Bank and State Bank of India. Together, they hold millions of pounds in deposits… 1028 words. click here
Video: Dudhsagar Falls in Full Glory during Monsoon

18 Sep: daintellekt. The video shows the majestic Dudhsagar Waterfalls near Goa in its full glory during peak monsoon season. Located in Western Ghats surrounded by dense forest, creates breath-taking scenes with deluge rushing down from 300 ft. One can spend several hours appreciating the sheer beauty of falls and natural surroundings. A must visit during monsoons and while in Goa. Best mode of transportation is through cargo trains; trekking through jungle (or bikes/jeeps) is arduous and time consuming. 8m. 34s. click here
21-year-old Goan to attempt to climb Europe's highest mountain Mt Elbrus
17 Sep: Times of India. On September 20th Rahul Prabhudesai, a 21 year old Goan from Goa will be traveling to Russia in an attempt to climb Europe's highest mountain Mt Elbrus… Rahul from Margao, Goa is a fresh graduate from Chowgule College … he has always been a sport oriented person ever since he was only 6 years old… click here
GOAN VOICE DAILY NEWSLETTER FRIDAY 19 SEP. 2014
Obituary
Kuwait: Agnelo Borges: Lost Indian 'found'

18 Sep: Arab Times (Kuwait). Page 8: News in Brief. Preparations are being made to repatriate the remains of 46year-old Indian Agnelo Pedro Borges who was reported missing on June 21, 2014 to his native place Nuvem, Goa. Borges reportedly died in a traffic accident in downtown Kuwait City and his remains marked 'unclaimed' were recovered from the Central Mortuary with help from the Indian Embassy… The mortal remains will be kept for viewing at Al-Sabah Hospital Mortuary, Shuwaikh on Saturday, Sept 20, 2014 at 9:00 am. A requiem mass has been offered by Nuvem Kuwait Parishioners and Nuvem Villagers/Friends at the Holy Family Cathedral at 6:30 pm, Thursday, Sept 18, 2014 on behalf of his family. For further details click here
---
Death: Larry M. Walker
12 Sep: Goa. LARRY M. WALKER. Born 1935. Dallas-based evangelist Larry Walker entered God's kingdom of heaven while on a mission trip in Goa, India, after a lifetime of ministry and international revivals… Larry is preceded in death by his father, Pastor Laurence Marvin Walker; mother, Gladys Walker; and sister, Ruth Morrison. Larry is survived by his wife of 57 years, Carmen Walker … The family will host visitation from 7-9 p.m. on Friday, September 19, 2014 at Restland Funeral Home, 13005 Greenville, Ave Dallas, TX 75243. A memorial service celebration of Larry's life will be held at 2 p.m. on Saturday, September 20, 2014, in the Sanctuary of First Baptist Church of Dallas, 1707 San Jacinto Dallas, TX 7520l. Memorials may be made to the First Baptist Church of Dallas. For a photo and more details, For further details click here
---
News Summary
Relative of British MP to become Sri Lanka's first saint

18 Sep: Catholic Herald (UK). The distant relative of a British MP will become Sri Lanka's first saint, the Vatican announced yesterday. Pope Francis is expected to canonise Blessed Joseph Vaz, a 17th century missionary, during his visit to Sri Lanka in January. Pope Francis has authorised the canonisation without a second miracle. Blessed Joseph Vaz (1651-1711) is known as the Apostle of Ceylon (now Sri Lanka). An Oratorian priest from Goa in the west of India, he was a missionary in Ceylon. He was beatified by Pope John Paul II in 1995. click here
My Birth, a miracle of Bl Joseph Vaz
19 Sep: Times of India. There are three processes to beatify and canonize a person: The process of writings of the person, the process of his/her heroic life and virtues and the miracle worked through his/her intercession. From what my parents have kept written, and from the sworn witness given by my mother and eight others from among my neighbours and close relatives who saw me at birth, these are the details of the miracle, which completed the process of beatification of Bl Joseph Vaz… 2081 words click here
Swindon: Richey Afonso's family shame after sex case

18 Sep: Swindon Advertiser. A teenage sex offender who went on the run while police were investigating allegations against him has walked free from court. Richey Afonso, 19, of Medgbury Road, Swindon, who had sex with a 14-year-old girl as her father slept, was spared jail after a judge heard he was sorry and had brought great shame on his Goan family … Kuljeet Dobe, defending, said "the local community knows about it so there is a lot of shame on his family."… Judge Tim Mousley QC said: "You are a young man. You are remorseful for what you have done. You have brought enormous shame on your family." … 559 words.
click here
For earlier reports about the case,
click here
Deputy CM woos NRI Goans' investments
19 Sep: Times of India. Deputy Chief minister Francis D'Souza, on his recent visit to Abu Dhabi, wooed Goan NRIs to invest in their home state, assuring them of the government's support… He assured NRIs that so far, the Goa government has never faced any problem of dealing with the return and re-settlement of Goans from UAE. But should any returnee look for an investment opportunity in Goa, he can always get in touch with the nodal officer in the department of industries, trade and commerce specially entrusted with the task of dealing with non-resident Goans who are keen to invest… click here
Lisbon: Sept 25th is Sarapatel Day at a Goan Restaurant

17 Sep: Of Restaurant. The Delicias de Goa restaurant in Lisbon chose September 25 as the day of Sarapatel and the customers can have as much as they want, at lunch or dinner, for 15 euros per person. Drinks and desserts are not included. Situated in Rua Conde Redondo, the Delicias de Goa is located near the headquarters of the Judicial Police, and offers genuine dishes of the former Portuguese territory, blending Indian and Portuguese flavors… click here
For the restaurant website, click here
Man held for raping daughter, 2 relatives
19 Sep: Times of India. The women's police station arrested a 30-year-old man for allegedly raping his mother-in-law, sister-in-law and minor daughter over a period of six months. Police said the man, a native of Maharashtra, is married to a Goan, is unemployed and is living off his wife's earnings … click here
Teen was raped for about a year. 19 Sep: Deccan Chronicle… A 14-year-old girl was sold to a middle-aged rich businessman who would subsequently rape her repeatedly. She was sold to different people who took her to other states like Goa… The last customer was a foreigner who took her to Goa… click here
Goa: Russians taking over local tourism trade

18 Sep: eTurboNews. Russians are present in almost all businesses related to tourism in the northern beaches of Goa such as Morjim, Mandrem, Ashvem and Arambol. First, they paid as tourists; slowly, they captured the businesses, killed the competition and now monopolize the economy in the beach stretches of Morjim, Mandrem, Ashvem and Arambol. One can find them in all businesses; be it providing SIM cards or DJs or designing flyers and advertisements, taxi arrangements, arranging night parties, dancers, hosting shows, lighting and fireworks, running hotels or shacks or restaurants. Most are illegal though… click here
Mumbai: Bandra developer now booked for gang rape
18 Sep: Mumbai Mirror. A month after 53-year-old Bandra developer Clarence Pereira was arrested on charges of rape, cheating and molestation based on allegations by three women complainants, a sub-section of gang rape has been added to the charges against him by the Bandra police … Pereira runs a luxury bus service between Mumbai and Goa and has developed several prime properties in Bandra and Western suburbs … click here
Video: Bad News Barrett Referees, Legend's Daughter Asks Fans For Help

18 Sep: Meghan Baker, daughter of wrestling legend Ox Baker, has launched a GoFundMe campaign to help her father out and to help cover his bills & funeral costs. She noted that Ox does not have long left to live as he has heart problems and his kidneys are going to fail… Bad News Barrett is currently in India doing promotional work for WWE. He acted as special guest referee for a Special Olympics Bharat football match between Maharashtra and Goa earlier today. Check the link for a photo of Barrett with both teams … click here
UK: Forthcoming Events

Sat 20 Sep. 5.30pm at Villiers High School, Southall. Tiatr. Pilar Fathers & Goan Chaplaincy UK present yet another blockbuster, Oxir Rosteanchi Rundhai. (The Breadth of Narrow Roads). Written and directed by Rev. Fr. Lucas Rodrigues. The star-laden cast include well known artistes from Goa and London. For tickets contact: Nazareth D'Souza (Southall) 07737 166254, Assumption: 07440 578191, Antonio Mendes: 07882 749692, Fr. Lucas 07523 453631. For a synopsis and the flyer, click here.
Sun. 21 Sep. GOA Trook Tournament at ATC Hall, 192 Merton Road, South Wimbledon. Entries close on 9/9/14. Draw at 11.30am. Contact: Jacinto Fernandes 020 8542 5427. For the flyer, click here.
Sun. 21 Sep. 12.00pm & 6.00pm at Wyvern Theatre, Swindon. Tiatr. Pilar Fathers & Goan Chaplaincy UK present yet another blockbuster, Oxir Rosteanchi Rundhai. (The Breadth of Narrow Roads). Written and directed by Rev. Fr. Lucas Rodrigues. The star-laden cast include well known artistes from Goa and London. For tickets please contact: Monty: 07840 135121, Luis (Reading) 07831 160766, Fr. Lucas 07523 453631. For a synopsis and the flyer, click here.
Sat. 27 Sept. St Jacinto Feast - At the Cranford Community College, High Street, Cranford, Middlesex TW5 9PD. Celebration of Mass at 3.00 pm sharp, followed by an afternoon of celebration and dancing to the sounds of "PRESS PLAY". Snacks and Lunch will be served. For details and tickets please contact Agnelo: 07958504545/ Maria: 02089315185/ Clare: 02085782288/ Marisa: 07877775880 or 07568185022/ For the flyer, click here.
Fri. 3 Oct: From 17:00. Loon Cocktail Party. Come join the fun, wear your disco threads, the DJ will provide the beats. Watch live performances and Enjoy cheapest drinks. Entry tickets for £20 with Starter + Buffet. Lots more surprise to be unfolded at the Indian Gymkhana Club, Thornbury Ave, Osterley, Middlesex TW7 4NQ. For cheapest transport after party contract in advance to Lourenco/Ondrej: loon.entertainment@gmail.com or phone 07741280994, For the flyer, click here.
Sun. 5 Oct. Majorda Union (London) request the pleasure of your company at their 31st Celebration of the Festa Da Boa Morte at Woodside High School Hall, White Hart Lane, Wood Green N22 5QJ. The Feast Mass will commence promptly at 1pm, followed by entertainment and dancing to the music of Nite Life. Tickets are great value, priced at £12 (adult) and £6 (children 11 to 16) and include snacks & main meal. Children under 11 accompanied by parents go free. Please book early to avoid any disappointment. For info and tickets, click here
Sun: 19 Oct. From 12:00 noon. 42nd Anniversary Uganda Reunion. Archbishop Lanfranc School, Mitcham Road, Croydon, CR9 3AS. Dancing to the sounds of Maz 'n' Co. Application Forms have been sent to members. If you are interested get in touch with us. As usual members will be given first preference. Tickets £17.00 each including meal. For tickets contact: John on 020 8764 2430; Filu on 020 8658 1317; Sabby on 07956 545 461or 020 8802 0690; Lloyd on 07968309347; Xavier on 07988674111; Phone or text Juliette on 07958 537314; Leslie on 07803 294 187; Phone or text Francisco De Souza on 07766 144 347. For the flyer, click here.
Sat. 25 Oct: Colva Union UK is organising their 41st Anniversary Ball celebrating the Feast of Infant Jesus with holy mass at 4pm at Our Lady Queen of Apostles Church, 15 The Green, Heston, TW5 0RL followed by a social next door. Music will be provided super Goan band isymphony and the buffet will be done by Cordon Bleu Chef Nicholas. Dress to Impress: Blue and Black Formal. Tickets are priced at just £15.00 for adults £7.50 for children under 12 years. Tickets are available from Gabriel 0208 230 7139, Custodio 0203 5390 216, Rose 0208 6770 390, Alfie 0208 7640 353 or Deborah 0208 384 3809. For the flyer, click here.
Sun 26 Oct. Dr. Ribeiro Goan School Alumni (UK) Committee wishes to inform you that an Alumni Memorial Mass & Reunion has been planned at the Archbishop Lanfranc School, Croydon, Surrey. The Memorial Mass, celebrated by former student, Rev. Fr. Tony Fernandes, is scheduled to begin at 12:00 noon followed by the alumni reunion. Dancing to the music of The Mellow Tones. For further details, including venue and ticket, click here.
For Later Events See www.goanvoice.org.uk/events.php
GOAN VOICE DAILY NEWSLETTER THURSDAY 18 SEP. 2014
Obituary
Death & Funeral Details: Santana Gomes

8th Sep: Croydon, London, UK. SANTANA GOMES, (Ex Mombasa and Nairobi). Son of late Domingoes and Maria Candida Gomes (Tivim, Goa), Loving husband of late Zia (nee Almeida), brother of Ruby (late Charlie) De Mello (Tivim-Goa), Adrian (Irene) Gomes (Quebec), Christopher (late Estefania) Gomes, (London) and brother- in- law of Dr John (Nalini) Almeida (London). Funeral Mass on Tuesday 30th September 2014 at 10 am at St Mary's Church, 70 Wellesley Road, Croydon CR0 2AR, followed by burial at Croydon Cemetery, Thornton Road, Croydon CR0 3AA. No flowers by request, but if you wish to make a donation please consider the "Stroke Association". Condolences to email
---
Death: Dorothy Remedios
13 Sep: Ladner, BC, Canada. DOROTHY REMEDIOS. Born 1923 in Bombay moved to British Columbia in 1996, with her family. . While in India, Dorothy was a well-known seamstress specializing in designing and sewing bridal gowns. For 30 years, she was renowned for her expert workmanship throughout Bombay. . Dorothy was predeceased by her husband, Patrick Remedios in 1980. . She will be lovingly remembered by her children Michelle (Jude) Pereira, Valerian (Vivienne) Remedios, Cedric (Peli) Remedios, grandchildren Josh (Sonia), Samantha (Derek), Denise (Artur), Diane (Richard), David and Sean. . A Burial Mass will take place on Wednesday, September 17, 2014 at 11:00 am at Sacred Heart Catholic Church, 3900 Arthur Drive, Ladner, BC, with a reception to follow. Photo. To place on-line condolences, For further details click here
---
Acknowledgement: Georgina Laura Martins

We, the family of late Georgina Laura Martins (Maryland, USA), would like to thank all of our relatives and friends for your expression of sympathy extended to us during our recent bereavement. As we are not able to thank each of you individually, please accept this as a token of our appreciation. We will treasure your loving memories of Gina shared with us for a lifetime. email
For the original death notice, click here.
---
News Summary
Swindon: Richey Afonso's family shame after sex case

18 Sep: Swindon Advertiser. A teenage sex offender who went on the run while police were investigating allegations against him has walked free from court. Richey Afonso, 19, of Medgbury Road, Swindon, who had sex with a 14-year-old girl as her father slept, was spared jail after a judge heard he was sorry and had brought great shame on his Goan family … Kuljeet Dobe, defending, said "the local community knows about it so there is a lot of shame on his family."… Judge Tim Mousley QC said: "You are a young man. You are remorseful for what you have done. You have brought enormous shame on your family." … 559 words.
click here
For earlier reports about the case,
click here
Bl. Joseph Vaz, first saint to Sri Lanka

17 Sep: Vatican Radio. Pope Francis' approval of the votes of the Ordinary Session of the Cardinals and Bishops in favor of canonization of Blessed Joseph Vaz attains special significance in the wake of the forthcoming visit of the Holy Father to Sri. Lanka in January 2015. Bl. Vaz was born in Goa, India, in 1651. As a priest he volunteered to work in Sri Lanka amid persecution of Catholics by Dutch colonial rulers, who were Calvinists. Catholic priests were forbidden to preach; it would mean imprisonment and even death if they were caught… click here
Pope OKs canonization of Joseph Vaz without second miracle confirmed 17 Sep: Daily Mail (UK). click here
For the Wikipedia profile of Bl. Joseph Vaz, click here.
Goa has stopped getting those high-spending foreign tourists
18 Sep: Times of India. … "The early days were the best," says Edwin, a watersports and cruise boat operator in Candolim. "At that time (1980's) our beaches were virgin beaches and the kind of tourists we used to get from Germany and later UK were high-class. The British tourists we used to get then were the best. They would pay well and also tip well. But, then slowly things have changed because our beaches and surroundings have become dirty and the type of tourists we now get from the UK are also from the lower levels of society like toilet attendants and garbage collectors, who do not really have the spending power." The British, though, are still everybody's favourites, while almost everybody cribs about the Russians… 507 words. click here
Tony De Nazareth: Crowd for Angels Lists Crypto Currency Offer

16 Sep: Crowd Fund Insider. … Crowd for Angels has announced an opportunity to invest in a crypto-currency … The expected annual rate of return is predicted to be 12%-15%. LXCCoin is seeking to raise up to £250,000 at a valuation of £2 million in this raise on the Crowd for Angels platform… Tony De Nazareth, founder of Crowd for Angels says: "This is a truly significant development for financial innovation in the UK. LXCCoin fits within our strategy of offering genuinely interesting investment opportunities via our regulated platform." … The London based crowdfunding platform Crowd of Angels is regulated by the Financial Conduct Authority … Text + photos + video. click here
17 Sep. The Daily Telegraph (UK). LXC Coin crowdfunds in challenge to Bitcoin … click here
Tony de Nazareth was born in Zanzibar. His father was from Candolim and his mother from Calangute. He is married to Franceline who was born in Brunei and has a home in Mapuca. They have one son Kenrick. For his professional profile and Crowd For Angels website, see click here.
Video: Last Hippie Standing
17 Sep: Marcus Robbin. Goa is not a place - Goa is a state of mind. "Last Hippie Standing", a documentary by Marcus Robbin. 44m. 44s. click here
The Goa Run selected for Raindance Film Festival, London

17 Sep: Cinema. British director John Owen's Indian feature film, The Goa Run will be screened at the 22nd Raindance Film Festival that will take place from the 24th September – 5th October 2014 in central London. The Goa Run (Peter Gaya Kaam Sey) revolves around a Goan taxi driver who accepts a job from a local crime boss to pay his debts. The film remains unreleased in India several years after it was completed owing to creative differences between the director and the producers apparently… The film will be screened at Vue Cinema, Piccadilly on Sunday 27 Sep. at 13:30. . click here
Video: Frail mother attacks Disney for banning son's Bollywood movie. 15 May 2015. Cornish Guardian click here
Video: Trailer of the film. click here.
London's Young Techies Find Anti-Immigrant Mood a Drag
17 Sep: Reuters. … London's situation highlights the mounting tension between the needs of city business and the political mood in the country at large… Prime Minister David Cameron has promised to reduce net migration to the "tens of thousands" from 212,000 in 2013 … Anti-immigrant sentiment in Britain is nothing new, but politicians are playing on it more than in the past… 1716 words. click here
Collien Fernandes is moved to tears:

17 Sep: RTL (Germany). They were prepared for many things, but Collien Ulmen Fernandes and her husband Christian were moved during their visit to Ethiopia. "It changes if you are a mother yourself," Collien said in an interview with RTL. As she holds a small, innocent baby on her arm, she cannot suppress her tears. The journey through Ethiopia as' Unicef' ambassador in the fight against tetanus has made the couple thoughtful. "I think it's definitely important to be confronted with children with the other side of the world," said Collien who is the mother of a two and a half year old girl … click here
For a Wikipedia profile of Collien Fernandes, click here
Thai PM says only "not beautiful" women in bikinis are safe from rape
17 Sep: Cosmopolitan (UK). Following the shocking news that Hannah Witheridge, 23, and David Miller, 24, were murdered in Thailand, the Prime Minister there said, "There are always problems with tourist safety. They think our country is beautiful and safe so they can do whatever they want, they can wear bikinis and walk everywhere. But can they be safe in bikinis…unless they are not beautiful?" … The comments have come just weeks after Sudin Dhavalikar, the minister for the public works department in the Indian state of Goa, made similar controversial statements – calling for a ban on bikinis after linking them to sexual crimes on beaches… click here
Kevin DeSouza: To speak at global summit to end extreme poverty

15 Sep: ASU. Arizona State University College of Public Programs professors Kevin Desouza and David Swindell will be a part of the collaboration in a new session sponsored by the U.S. Global Development Lab, the Innovation Marketplace. The event engages a broad audience with a focus on "the idea that science, technology, innovation and partnership can accelerate development impact and end extreme poverty by 2030." … "While we have made great strides in leveraging technology and data for global development, we have undermined its potential due to an under-appreciation for governance and policy nuances," says Desouza, who is also associate dean for research for the College of Public Programs… click here
For a profile of Kevin DeSouza click here
UK: TV & RADIO HIGHLIGHTS By Lira Fernandes

DOCUMENTARY: Illegals: Breaking Into Britain. Channel 5. Thursday 18th Sep. 21:00 to 22:00. Documentary exploring the stories of some of the estimated 800,000 illegal immigrants living in the UK, many of whom have risked their lives to enter the country.
FILM: Trishna. BBC 4 (Freeview 9). Sunday 21st Sep. 22:00 to 23:45. Indian-set drama based loosely on Thomas Hardy's novel Tess of the d'Urbervilles. Trishna is a young woman living in a small village - played by Freida Pinto. 2011, 15, 3 Star.
DOCUMENTARY: Scam City. National Geographic (Sky 526). Sunday 21st Sep. 22:00 to 23:00. Mumbai. Conor Woodman experiences the mother of all taxi scams in Mumbai. He also encounters a bogus police officer and a woman who claims she can make him a Bollywood star.
DOCUMENTARY: Indian Hospital. Community Channel (Freeview 63). Monday 22nd Sep. 21:00 to 22:00. Join us as we go inside a hospital with a difference and ask whether India can become the first country in the world to disassociate healthcare from affluence?
DOCUMENTARY: Secrets of Sex. Community Channel (Freeview 63). Monday 22nd Sep. 22:00 to 23:15. Aravani Girl. Two boys. One dangerous desire. Two teenagers dream of becoming ladyboys. Loved as performers but hated as homosexuals, their stories echo the conflicts of India's gender culture.
COOKERY: Come Dine with Me. more4 (Freeview 14). Tuesday 23rd Sep. 14:00 to 14:35. Extra Portions. The West Country plays host to the culinary clash where Kenyan-born Sarah Hillman's menu, which includes zebra and ostrich, could be too exotic for traditionalist town crier Adrian Dando, who reckons there's too much foreign food on offer these days. Sarah's spicy chilli sauce nearly has Adrian choking.
DOCUMENTARY: Hotel India. BBC 2. Tuesday 23rd Sep. 23:50 to 00:50. Documentary series going behind-the-scenes of India's oldest and most famous hotel, the Taj Mahal Palace Hotel in Mumbai. This final episode follows those directly connected to its illustrious past … On 26 November 2008, terrorists attacked the hotel claiming the lives of 31 people.
DOCUMENTARY: Terror at the Mall. BBC 2. Wednesday 24th Sep. 21:00 to 22:00. Revisiting the terrorist attack on September 2013 in Nairobi, Kenya, where four gunmen walked into the crowded Westgate Shopping Mall and began systematically murdering shoppers. Dan Reed, who also made award-winning "Terror in Mumbai" directs. To watch the programme online, now, click here.
GOAN VOICE DAILY NEWSLETTER WEDNESDAY 17 SEP. 2014
Obituary
Death: Philomena Coelho

13 Sep: Mississauga, Canada. PHILOMENA (ANDRADES) COELHO. Loving mother of Lynne Hay (Bill), Michele Derome (Michael) and LLoyd (Ziggy). Dear grandmother of Brandon, Chelsea, Connor, Jenna, Ryan, Zachary, Timothy and Christopher. Survived by brother, Oscar (Martine) and Edgar (Trish) and sisters Monica Lukenda (Brian), Joyce Landry (Ron), Hazel Ankenbrand (Fred), Yvonne Gandhi and Audrey Charlebois (Kevin). Friends may visit on Friday from 6-9 at the Turner & Porter "Peel" Chapel 2180 Hurontario St., Mississauga. Funeral service to be held in the Chapel on Saturday September 20, 2014 at 11:00 a.m. [Info: Pompie Gois]. For further details click here
---
Death: Joseph Figueredo

15 Sep: Montreal. JOSEPH FIGUEREDO. Born 1931. Predeceased by his wife, Sylvia, and his daughter Audrey. He leaves to mourn his children Richard (Felicia) and Michelle (Livio); and grandchildren Danielle, Clara, Eric and Kayleigh. Joseph was a lawyer in India when he immigrated to Canada in 1962. He then qualified as a Chartered Accountant and taught at Vanier College in the Business Administration program. Family will receive condolences at Collins Clarke MacGillivray White Funeral Home. 222 Autoroute 20, Pte. Claire, QC H9S 3X6 on Wednesday, September 17 from 3-5 p.m. and 7-9 p.m. The Funeral Service will be held on Thursday, September 18 at 11 a.m. at St-Thomas Becket, 4320 Ste-Anne, Pierrefonds, QC. A private Burial will take place at a later date. For further details click here
---
News Summary
India should have invaded Goa in 1947: Parrikar


click here
Lambert Mascarenhas honoured with Gomant Vibhushan award. 17 Sep: Navhind Times click here
Goa politicians gripe over Rs.345-crore new airport terminal
16 Sep: IANS. Once vaunted and an object for appropriation of cheap brownie points for Goa's political parties while it was being constructed, Goa's 10-month-young new airport terminal, built at a cost of Rs.345 crore ($56.5 million), is suddenly "nobody's child"… It has now become a political hot potato for being badly planned, tardy, smelly and of defective construction standards with several loose ends and even "unsafe"… The maximum capacity for handling passengers at the old terminal was only 900 passengers per hour, but it was actually handling 2,000 passengers. The new facility built over 64,000 sq. metres has a peak-time capacity of 2,750 passengers per hour… click here
UK: New Event announcement: Uganda Reunion

Sun: 19 Oct. From 12:00 noon. 42nd Anniversary Uganda Reunion. Archbishop Lanfranc School, Mitcham Road, Croydon, CR9 3AS. Dancing to the sounds of Maz 'n' Co. Application Forms have been sent to members. If you are interested get in touch with us. As usual members will be given first preference. Tickets £17.00 each including meal. For tickets contact: John on 020 8764 2430; Filu on 020 8658 1317; Sabby on 07956 545 461or 020 8802 0690; Lloyd on 07968309347; Xavier on 07988674111; Phone or text Juliette on 07958 537314; Leslie on 07803 294 187; Phone or text Francisco De Souza on 07766 144 347. For the flyer, click here
Portuguese entrepreneurs keen to set up shop in Goa
17 Sep: The Hindu. Three Portuguese companies, engaged in mould accessories, mould making and industrial waste management, and at present on a two-city mission in India, have evinced keen interest in understanding the business environment in Goa… The opportunities stressed upon during the meeting, included waste management, tourism, sustainable ship-building, light engineering and even the subjects of training of machinists was broached… . click here
Sydney: GOA NSW celebrates World Goa Day

17 Sep: Indian Sun (Australia). By Amelia Pereira The Goan Overseas Association (GOA) NSW celebrated WORLD GOA DAY on Sunday, 17 August 2014. The GOA NSW has been organising this event since 2006… there was a house full of over 450 young and old enjoying the many culinary delights and music… 11 specialty food stalls with delicacies like Sorpotel , Chorice Pao , Recheado Bangdo, Alle Belle, Goa Sausages, Bebinca, Doce and Dodol… Malcolm Britto and Roy Rosario of Margao fame entertained the gathering with their music… The Bingo full house was won by 92-year-old Rita… click here
Ministry of Tourism to focus on development of 50 tourist circuit
16 Sep: The Ministry of Tourism (MoT), Government of India has identified 50 tourist circuits for development, which includes Cruise Tourism for Goa, Shripad Yesso Naik, Minister for Tourism, Government of India, announced … The Minister said that India will be positioned as a global brand by making travel hassle-free and user-friendly through implementation of E-Visa that will be introduced in a phased manner at nine airports in India, including Goa, very shortly… suggestions included cost of visa and its link to reciprocity, simplifying visa form and procedures … click here
Melbourne: Goa Grande!

17 Sep: Indian Sun (Australia). On 16 August, Melbourne witnessed its grandest World Goa Day celebrations to date. More than 450 Goans and their friends got together to celebrate in an event organised by Golden Events Management (GEM)… Master of Ceremonies was Mr Alan D'Cruz ... Dinner of pea rice and tomato pulao, roast beef, eggplant, salads etc etc, they also served Goan Pork Sorpotel and Chicken Xacuti to everyone's delight. Mrs Lidia Martins performed the Kotti Dance. Natasha Rodrigues and Dilip Chico also entertained the crowd … Regretfully, many people missed out on World Goa Day as they left their booking for the last moment… click here
About TIME Goa tourism goes online
16 Sep: Times of India. The Goa tourism department will soon connect with all registered hotels in the state through a software called TIME to collect details of guests staying in these hotels on a daily basis… The system has another important feature. Presently, hotels have to fill a separate Form C for foreign guests. TIME has a feature whereby it can extract the required information from Form 11 to complete Form C… click here
'Why is Goa dirty', foreign travel agents pop the question

16 Sep: Herald. Why is the place dirty? This seemingly innocuous question, popped to the Herald reporter on the sidelines of a meeting of Armenian tour operators, has the potential to be the biggest party pooper for Goa's tourism. Anna Sargsyan, reservation manager of Air Arabia said that Goa as a place was wonderful and she felt safe here. The five star hotels were fantastic and then came the big BUT. "I have reservations with the level of cleanliness at certain places… We have Indians living in Armenia and they don't behave like this"… A delegation of 24 tour operators from Kazakhstan and Armenia are presently in the State for seven days on a familiarisation trip … click here
Dustbins every 100m on beaches, promises campaign
16 Sep: Times of India. Beaches will now have dustbins every 100m to ensure cleanliness and there will be proper segregation of garbage, too. This will be part of the government initiative to achieve a garbage-free Goa by December 19, next year, chief minister Manohar Parrikar said… The collected garbage will be segregated into biodegradable and non-biodegradable with the bio-degradable waste being converted into compost… click here
Successful Mussel Trial Drives Aquaculture Development in Goa


16 Sep: Fish Site (UK). The successful demonstration of mussel farming in the brackish waters of Goa has built a new path for the development of coastal mariculture in the area… the lack of awareness about the relevant technology among the people was found to be the major cause of poor growth of this sector… The trial farmed Green Mussel (Perna viridis), locally known as "Xinanneo" … The harvest was carried out after a period of six months. Each mussel was sold at a price of Rs.5/piece with an average weight of 33g. Total production cost was around Rs. 14,370. The total returns and the net profit gained were Rs. 28,800 and Rs. 16,510 respectively… click here
London to host Regional NRI Forum next month
16 Sep: Economic Times. London will host its first-ever Regional Pravasi Bharatiya Divas (RPBD) next month for over three days between October 16 and 18. This smaller-scale version of the mega PBD held every January in India, is expected to be inaugurated by External Affairs minister Sushma Swaraj on October 17 at Queen Elizabeth II Conference Centre in Westminster … Discussions will feature on how the Diaspora and the Indian government can leverage each other's strengths to mutual benefit in the framework of India-UK strategic partnership… click here
Auction: John Nicholson, Haslemere, Surrey, UK. 19 Sep.

Lot 1343 – A Christian Mother of Pearl Plaque, Goa or Philippines, 18th Century. 5.25ins diameter. Estimate: £30 - £50.

click here

Lot 1410 – A very good Goanese Jesuit Rosewood Cross inlaid with silver and mother of pearl. 19ins long. Estimate: £300 - £400

click here

Lot 1937 - A superb 17th century Goanese rosewood inlaid cabinet on stand with twelve drawers in four rows of four, with brass escutcheons and drop handles on a stand with two drawers, end supports with uniting stretchers and pierced legs. The cabinet 2ft 5ins wide x 1ft 4ins deep x 1ft 4ins high on a stand 2ft 7ins high. Estimate: £12,000 - £15,000. click here.
Weekly Weather & Exchange Rates
17 Sep: Goa Met.. Weather: Max = 31.2. Min = 24.0. Rainfall: 3.9 mm
For the Meteorological Office (UK) Five day forecast for Goa, click here.
Exchange rates (Xcom): &pound = 99.18; $ = 60.95; $Can = 55.55; Euro = 78.98; $Aus= 55.38.
GOAN VOICE DAILY NEWSLETTER TUESDAY 16 SEP. 2014
Obituary
Death: Santana Gomes
8th Sep: Croydon, London, UK. SANTANA GOMES, (Ex Mombasa and Nairobi). Son of late Domingoes and Maria Candida Gomes (Tivim, Goa), Loving husband of late Zia (nee Almeida), brother of Ruby (late Charlie) De Mello (Tivim-Goa), Adrian (Irene) Gomes (Quebec), Christopher (late Estefania) Gomes, (London) and brother- in- law of Dr John (Nalini) Almeida (London). Funeral details to follow. Condolences to email
---
Death: Rosa (May) DeSouza

11 Sep: Markham, Toronto. ROSA MARIA (MAY) DESOUZA. Passed away peacefully, just eight months short of her 100th birthday. Cherished wife of late Nicholas (Nic) DeSouza , Beloved mother of Boris (Marietta), Roland, Wesley (Bridget) and Sherrie (Steve). May was much loved by her grandchildren, great-grandchildren and friends. Visitation will be held on Tuesday Sep 16 from 6 to 9 pm at Chapel Ridge Funeral Home
8911 Woodbine Avenue, 
Markham, ON L3R 5G1. Funeral Mass will be held on Wednesday September 17 at 11 am at Prince of Peace Catholic Church, 265 Alton Towers Circle, Scarborough, ON M1V 4E7. Cremation to follow (Private). No flowers by request. If you wish, donations could be made to May's favourite charity: Don Bosco's , 510, rue du Québec, Sherbrooke, QC JIH 3L8. Condolences to click here.
---
Death: Edwin Fernandes
14 Sep: Toronto. EDWIN FERNANDES, Beloved husband of the late Edith Fernandes, father of Kevin (Cheryl), Denise (Calvin Rodgers), Wendy (Dommy Rodrigues) and Serena (Patrick Rosario). Grandfather of Adam, Abraham, Kimberly, Leanne, Joshua and Kaitlyn. Brother of Roque Fernandes (Karachi), May D'Costa (Canada) and June Fernandes (Canada). Viewing: Friday, Sep 19, 5 PM - 9 PM Turner and Porter Funeral Home 1981 Dundas St. West Mississauga ON, L5K 1R2. Mass: – Saturday, Sep 20, @ 10:30 AM St. John of the Cross Catholic Church 6890 Glen Erin Drive, Mississauga, Ontario Cemetery: Assumption Catholic Cemetery, 6933 Tomken Road Mississauga, ON L5T 1N4. [Info: Pompie Gois]. For further details click here
---
News Summary
Video: Jean-Pierre Braganza London Fashion Week

15 Sep: Eshe Ynke. A short visual of my favourite garments from Jean-Pierre Braganza's SS15 collection showcased at London Fashion Week. click here
15 Sep: LExpress (France). La marque Jean-pierre Braganza présentait sa collection printemps-été 2015 lors des défilés Femme de Londres. Découvrez toutes les photos de son défilé.,, 30 photos. click here
For a profile of Braganza, click here.
Video: Who the f*** is Fanny???
12 Sep: Ronaldo Coria. Only the Goans will understand … 3m. 08s. click here
15 Sep: Finding Fanny's Deepika Padukone lashes out at India's 'leading' newspaper for showing her cleavage video click here
Mumbai: Rs 425 crore scam: 'Michael Ferreira & kin under lens'

15 Sep: Times of India. The Economic Offences Wing (EOW) of the city police probing a cheating case of Rs 425 crore involving marketing firm QNet has said that the entire family of Michael Ferreira, winner of the World Amateur Billiards Championship is under the scanner for their alleged role in the cheating case. An EOW officer said: "We have found that Ferreira's wife and two children had also received money through QNet and its sister agencies." This comes two days after Ferreira's former daughter-in-law was arrested on Friday for her alleged role in the QNet case … Ferreira (76) has filed an anticipatory bail plea along with seven other suspects. The court hearing is scheduled to come up on Monday… click here
For the Wikipedia profile of Michael Ferreira, click here
UK: Rabi Martins: Parliamentary candidates go head-to-head on Friday
15 Sep: Watford Observer. The Liberal Democrat parliamentary candidate hustings will take place on Friday. The candidates will state their cases before members of the party who will then vote on who to put forward for the General Election in May next year … Veteran councillor Rabi Martins, who represents the central ward on Watford Borough Council, is challenging for the candidacy… The retired business consultant has stated he will try and convince the party "having an excellent MP and an excellent mayor would be an unbeatable dream team"… an announcement would be made after the hustings on Friday. click here
Hot money out of Goan realty market

15 Sep: Herald. The state is a popular spot for tourists, attracting increasing number of visitors from all over the country as well as the world. This has resulted in some staying for extended periods of time and others taking a conscious decision to settle in Goa. This resulted in an increase in the demand for the several apartments that were being constructed around the state… The ban on mining however punched a big hole in the balloon… Inflated prices, slow appreciation in property has resulted in the speculator moving away … 200- 300 flats are empty on the beach belt… Only PIO and NRE looking to invest in flats currently… 851 words. click here
Editorial: Will tourists continue to be fleeced and the same chaos prevails this season?
15 Sep: Herald. Apart from tourism stakeholders, touts, drug peddlers and dependents, the rest of Goa must be dreading another tourist season which is on the anvil. Dreading, because tourist season has come to mean excruciatingly blaring music festivals, traffic chaos, indiscipline tourists, garbage and sheer chaos… touts perennially lead unsuspecting tourists to hotels of their choice … exorbitant taxi fares in Goa … Food and Drug administration inspectors should check the quality of food served … The selling point of Goa's tourism services should be competitive pricing and efficiency of services… 810 words. click here
Football: 'White Pele' sets foot in Goa

16 Sep: Navhind Times. Brazilian football legend Zico arrived in the state and was received amid much fanfare at the Dabolim airport on Monday. He will be unveiled as the manager of Football Club Goa, the state's franchise in the forthcoming Indian Super League, on Tuesday. The 61-year-old Arthur Antunes Coimbra, nicknamed 'White Pele,' reached Goa along with Dempo SC's Brazilian midfielder Roberto Mendes Silva (Beto) … fans thronged the international arrival terminal to catch a glimpse of the former footballer, one of the all-time greats in the game… click here
Video: Goa 365. click here
'Sandra from Bandra' to 'Oh Fanny re': The changing face of Christians in films
12 Sep: Hindustan Times. As Catholic priests, caring matrons and fun-loving secretaries with plunging necklines, Christian characters from Bollywood (and others too) have endeared themselves to us. For most parts, they come across as warm and fun-loving people. But that's where, many would argue, the problem lies - in stereotyping a community… You will see them in far more professions than nursing and as secretaries. Yet, for years, popular cinema, has typecast them. But winds of change are quite perceivable and so is the representation of a community… 1258 words + photos. click here
Shripad Naik to work to extend sound ban deadline

16 Sep: Times of India. In what could be music to the ears of the tourism industry in Goa, Union tourism minister Shripad Naik agreed that 10pm is too early to stop playing music in the state and promised to try and extend the deadline to midnight. Addressing tourism industry stakeholders, Naik said the central government will move a petition before the Supreme Court to review the sound ban especially in tourism destinations like Goa… He also assured that the long-pending demand of the tourism industry for visa on arrival will be implemented shortly… Naik tried to brush aside the topic of 'pub culture' in Goa and said that the recent controversy will not have any bearing on tourist arrivals in the state… 550 words. click here
3-4 million global pilgrims to attend St Xavier's exposition
16 Sep: Navhind Times. Union Minister of State for Tourism and Culture, Shripad Naik, Monday said that the Centre is expecting around 30-40 lakh pilgrims from all over the world for the exposition of the sacred relics of St Francis Xavier in Goa… Naik said that the Centre has already started preparations for the decennial event and significant action has been taken with regard to the publicity and branding for the exposition, which will be held from November onwards… click here
Auction: Mallams Ltd. Cheltenham. UK. 18 Sep.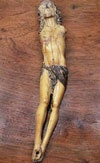 Lot 309: A group of four Goan/Indo Portuguese teakwood figures with original polychrome paint, 18th/19th Century, largest 20cm. Estimate: £250 - £350.

click here

Lot 310 – A Goan/Indo Portuguese carved ivory figure of Madonna, 17th Century, 16.5cm tall. Estimate: £1,500 - £2,000

click here

Lot 311 – A 17th century Indo-Portuguese ivory crucifix, 28cm. Estimate: £2,000 - £3,000. click here.
Database of Indian expatriates in UAE planned
14 Sep: Khaleej Times (UAE). Indian missions in the UAE are working on a mechanism to compile the database of Indian expatriates in the UAE, senior officials of the Indian missions said at the Indian States' Conference on Saturday… Francis D'Souza, deputy chief minister of Goa, stated that about 25 million Indians are believed to be living overseas… click here
GOAN VOICE DAILY NEWSLETTER MONDAY 15 SEP. 2014
Obituary
Death: Elvidio Diniz

5 Sep: Mullavaddo, Assolna, Goa: ELVIDIO OLAVO VIDALITO BERNADO DINIZ. Born 1946. (Ex Tanzania &USA). He is survived by Sara Otto-Diniz, wife of 39 years; children Cecilia Diniz Behn (Kurtis Diniz Behn) of Golden, CO and Gabriel Bernard Diniz of Los Angeles, CA; mother Argentina C. Diniz of Goa, India; sisters Lia Diniz Pocrnich and Elzimira Diniz Mackenzie (David Mackenzie) … Elvidio grew up in Dar-es-Salaam, Tanzania. In 1964, he came to the United States to attend Catholic University in Washington, DC where he majored in civil engineering… In 1981, Elvidio launched his own water resources engineering firm, Resource Technology Inc. He loved fishing on a lake in Ontario. He was a soccer player, coach, and indiscriminate fan of the beautiful game. Elvidio was buried on September 6, 2014 in Goa. A memorial Mass will be held at Risen Savior Catholic Community on September 20, 2014 at 10:00 am. The New Mexico Section of the American Society of Civil Engineers has set up a scholarship in his name and will match all donations. The checks should be written to: ASCE Memorial Fund and sent to 5030 Justin Drive NW, Albuquerque, NM 87114. [Summary from Albuquerque Journal, 14 Sep 2014, page B4. For full text, For further details click here
For Elvidio Diniz's professional profile, click here.
---
News Summary
Selma Carvalho examines the latest sex exploitation case in Rotherham, UK


click here
For the Rotherham report, click here
Supermarket at your fingertips
14 Sep: Navhind Times. Shopping as an everyday chore can often be a mundane and tiresome experience, especially for those who have a day job. But what if someone could do this for you and deliver all your shopping requirements right at your doorstep at your convenience and put an end to all your troubles? Well, that's exactly what Goa's first online supermarket 'Urbanration' specialises in and therefore it is aptly called the 'supermarket for busy people'… 1143 words. click here
For the Urbanration website, click here
Gail Da Silva stands as First Runner Up at Miss United Continent 2014!

14 Sep: World News Report. The vivacious Gail Nicole Da Silva won all the hearts in Ecuador while contesting for Miss United Continent 2014. She is placed as the first runner up. Miss Dominican Republic Geisha Montes de Oca won the title … Gail has had a very successful pageant, with the National Costume win days ago. At the finale the Miss Photogenic title too was conferred upon Gail! If the aim of the pageant is to unite people from different parts of the world, Gail has certainly done a great job as she has made friends with a lot of people from all over. With her charming personality and warm heart, Gail has reflected India in the best light, and India is proud of her! …

click here

Video: Miss Continentes Unidos 2014 - Momento de Coronación. Gail is crowned at 2m. 21s.

click here

For a profile of Gail, click here.
Prompt help from airport staff saves cardiac arrest patient
14 Sep: Times of India. Goan resident Steven Fernandes' family will never complain about Mumbai's don't-care attitude and infamous traffic. On September 5, when 75-year-old Fernandes collapsed at the city's new international Terminal 2, the airport medical team revived him two times before transporting him to a hospital for a bypass surgery within the golden hour… Fernandes, who had a stent fitted in one of his arteries a decade ago had returned from the US after a month-long break via Frankfurt… click here
Girl stabs lover while sitting pillion on his motorbike

12 Sep: InGoaNews. In a bizarre case of a love story gone tragic early Friday morning, a Ponda girl allegedly stabbed her lover in his back while riding pillion on his motorbike. The girl, Sarita Govekar, however managed to abscond from the site while the victim boy turned to the Ponda police station for help. Later in the day she was arrested by the police. He mustered the strength and drove to the Ponda police station where policemen were shocked at his condition and rushed him to the district hospital at Ponda where the doctors administered preliminary treatment and rushed him to the Goa Medical College and Hospital at Bambolim. The boy was stabbed just below his neck in the back, Ponda police who are investigating the case said… 1m. 22s. click here
2nd rabies survivor in country
14 Sep. Hindustan Times. In what doctors claim to be only the second case in the country where a rabies patient has survived, the Command Hospital has managed to bring back a comatose 16-year-old suffering from the disease to consciousness… The first case of a survivor was reported in April this year at the Goa Medical College. The research paper regarding it was published in the Journal of Clinical Sciences by Dr Aaron de Souza and Professor SN Madhusudana … . click here
15 Apr. 2014: Journal of the Neurological Sciences. Survival from rabies encephalitis. By Aaron de Souza, Shampur Narayan Madhusudana click here
Football: Brandon Fernandes is expected to play in the I-League this season

14 Sep: Goal. Brandon Fernandes is close to signing for Sporting Clube de Goa after the midfielder has begun training with the Goan club for the last couple of days… Having trained at South Africa's ASD Capetown Academy for two years, Fernandes also appeared for trials with at least English clubs, namely Reading, Leicester City and Sunderland… . click here
14 Sep: Times of India. Brandon Fernandes checks in … click here
15 Sep: Times of India ASD (South Africa) object to Brandon's move to Goa … click here.
Clube Nacional roof, wall collapses
15 Sep: Herald. A major portion of the roof and a wall of Clube Nacional, the oldest social club in Goa collapsed on Sunday afternoon damaging three shops on the ground floor. No casualties were reported in the incident at the Clube which otherwise is always teeming with visitors. The Clube, incidentally, is also shut on Sunday… The loss is estimated to be around several lakhs of rupees… click here
Auctions: Boxes – 17 – 18 Sep: UK

17 Sep: Jefferys, Lostwithiel, Cornwall, UK. Lot 187 – Ivory Casket, 19th Century. Finely engraved Indo-Portuguese foliate engraved rectangular needlework casket, (requiring restoration) 12`` width.

click here

18 Sep: Bamfords, Bakewell. UK. Lot 1111 – An Indo-Portuguese hardwood and ebonised rectangular lace box, hinged moulded top, pierced brass escutcheon and carrying handles, skirted base, 62cm wide. Estimate: £300 - £400.

click here

18 Sep: Mellors & Kirk, Nottingham, UK. Lot 1066 – An Indo Portuguese ivory inlaid wood box with penwork detail, the lid inlaid with floral centre and spandrels in trailing borders, the sides with upright stylised leaves to all four corners, iron lock and strap hinges, applied brass rosettes, 33.5cm w, c1700. Estimate: £400 - £600. click here.
Retaining wall collapses, road caves in at Dona Paula
14 Sep: Herald. Friday night Dona Paula residents had a miraculous escape as the retaining wall of the National Institute of Oceanography to Dona Paula Jetty road collapsed due to the massive road and sewerage works undertaken by the Goa State Infrastructure Development Corporation. Till Saturday evening, work was going on with JCB machines loading the mud into trucks to try and clear the debris. However, due to the digging, the retaining walls in other parts have considerably weakened and could collapse, given the rains over the past 10 days… click here
Video: Goa 365. click here
GOAN VOICE DAILY NEWSLETTER SUNDAY 14 SEP. 2014
News Summary
Meet Our New Sponsor: Da Gama Cars

We offer convenient, reliable and luxurious transport for Weddings. For the website, click here. For the Facebook page, click here. Please feel free to email or call me: Ashley Da Gama, vauxhall200@yahoo.com Mobile: 0745 328 0420
The Light House managers may have made some mistakes here
14 Sep: Herald. Head of El-Shaddai where the couple worked says they were 'stressed and wanted to get out' … Children of Light House came to them after they left, because they knew them … Contrary to the version of Light House on their website, El-Shaddai claims they aren't associated with Light House, UK … click here
Childrens Homes: Does Goa care about them?

13 Sep: The Goan. … Goa still hasn't learned a lesson from the paedophilia scandals of the 90s … There have been media reports regarding the illegal children's houses and NGOs have been crying themselves hoarse for a while now, but yet the department concerned, women and child development, has not yet woken up to the fact that this is a serious issue… a few of them are operated by foreign nationals, especially in the northern coastal belt… 1338 words. click here
82 cases of child abuse registered in three months across Goa
13 Sep: Times of India. Eighty-two cases of child abuse were registered in a span of three months at different police stations in the state. The highest number of cases was of sexual abuse, followed by physical abuse and so on. The Goa state commission for protection of child rights (GSCPCR), in its report, also pointed out other child abuse cases such as missing children, kidnapping and verbal abuse… click here
Panaji is an open urinal

13 Sep: The Goan. The public toilet at KTC bus stand has no water. The stench is unbearable and its surrounding is filthy. This leaves the commuters with no choice but to relieve oneself in public. But the Sulabh at KTC is not the only black dot in the capital city. People all over the city urinate in the open inconveniencing others… It's almost 30 months since Chief Minister, Manohar Parrikar has taken over the governance of the State, but the stench from Panaji's public places has not gone… there is no place left in the capital city where people have not stopped for urinating… women find it uncomfortable to see men taking a leak out in the open … 1309 words. click here
Goa Foundation to challenge High Court order on renewal of mining leases
14 Sep: Times of India. Goa Foundation, the NGO that took the state government to the Supreme Court over illegal mining in the state, will approach the Supreme Court (SC) again, this time to challenge a high court order that directs the state to renew 27 mining leases that have paid stamp duty. "It is the responsibility of the state government to challenge the high court order, but since the state government isn't doing so, we have decided to approach the apex court," Goa Foundation's director Claude Alvares said … click here
VS Gaitonde: A silent portrait

14 Sep: Mumbai Mirror. As New York's Guggenheim Museum preps for a VS Gaitonde retrospective, the curator-collector community - and his buddies - chew over what makes him the poster boy of modern Indian art… An oil on canvas by him fetched Rs 23.7 cr at Christie's … Born in 1924 in Nagpur to Goan parents, Gaitonde was an infant when his father, who worked in a printing press, moved to their ancestral village. It's here in Goa that he spent the first five years before they moved to Mumbai … click here
V. S. Gaitonde: Painting as Process, Painting as Life: Guggenheim Museum. October 24, 2014–February 11, 2015, click here
For the Wikipedia profile of Gaitonde, click here.
Lambert Mascarenhas: The musings, moods & memories of Goa's jolly good fellow
14 Sep: Times of India. Lambert Mascarenhas completes hundred illustrious summers in the sun this Wednesday, but neither has his patriotic spirit withered nor has the love for his homeland faded. He has witnessed it first hand — Goa colonized and then set free. TOI joins the rest of Goa in taking its hat off to the charismatic centurion who made the pen his sword… 1265 words + photo. click here
Auction: Cheffins, Cambridge, UK: 18 Sep. 2014

Lot 712 - A 17th century Indo Portuguese (IP) ivory figure of Christ crucified, Estimate (E): £500 - £700 Lot 713 - A 17th century IP ivory figure of Christ crucified, E: £600 - £900 Lot 714 - A 17th century IP ivory figure of Christ crucified, E: £800 - £1,200 Lot 715 - A 17th century Goan ivory Madonna and Child, E: £1,800 - £2,500 Lot 716 - A 17th century Goan ivory figure of the Madonna at prayer, E: £1,500 - £2,000 Lot 717 - A late 18th/early 19th century ivory figure of Christ crucified, E: £400 - £600 Lot 719 - An 18th century IP nautilus shell powder flask, E: £2,500 - £3,500 Lot 723 - An 18th century IP ivory reclining figure of the penitent Magdalene, E: £400 - £600 Lot 724 - An 18th century IP ivory kneeling angel, E: £400 - £600 Lot 725 - An 18th century IP ivory Madonna, E: £800 - £1,200 Lot 726 - Four 18th/19th century IP wooden figures, E: £250 - £400 Lot 727 - An 18th century IP silver navette shaped vessel, E: £350 - £500 Lot 728 - Three 19th century IP polychrome wood figures, E: £150 - £250 Lot 729 - Three 19th century IP polychrome wooden figures, E: £180 - £250 click here
Domestic charters join the marriage bandwagon in Goa
13 Sep: The Goan on Saturday. Marriage ceremonies in 5-star hotels in Goa have given a boost to domestic charters in India. This is literally resulting in a new business segment which didn't exist in India till a few years ago… There are a number of operators who are helping customers book private luxury jets within India to travel to Goa. Wedding celebrations account for a huge share of such jets coming to Goa… click here
Paypal
Goan Voice UK is funded by donations, events advertising and sponsorship from the world-wide Goan Community.



PayPal for secure credit card transactions

---
Classifieds
For details click here
Sponsors
Leonoras


Multi-cuisine Family Restaurant with Pub in Goa. A Jerome Mendes (UK) Enterprise. Also offering Rooms and Konkani Video CDs.
http://www.leonoras.co.in/
---
London: Goan Food Online Store


Dos Santos Foods are Manufacturers and Caterers Trading from new EEC approved, Gluten free Factory in Croydon U.K. Our Award winning foods, including our Sannas and Goa Sausages, have been featured on BBC TV. Check out our range of Goan specialities on our website www.goanfood.co.uk And visit our factory shop at 118 Windmill Road, Croydon, CR02XQ. Email: customerservice@goanfood.co.uk
---
AeroSafaris - Group Tours

2014: Jan/Feb Annual Winter Escape to Goa. Feb: Spectacular South Africa. Mar: Kenya - Tanzania Safari. Sep/Oct Pilgrimage to the Holy Land. Visit www.aerosafaris.com for more details
---
Lyra Productions (Videographer)

Capturing the heart of the moment into a wedding film that is timeless and
original. http://www.lyra-productions.co.uk/ Tel: 07805426269 (Blaise Fernandes)
---
Ed's Bar Services

We cater for all occasions, large or small. Edward Alvares. Personal Licence holder.
Full Licenced Bar. We provide proper glasses every time. For all your requirements contact Edward Alvares. Mob: 07507595603
email: edsbarservices@hotmail.co.uk
---
South East England: Da Gama Cars


We offer convenient, reliable and luxurious transport for Weddings. For the website,
click here. For the Facebook page, click
here. Please feel free to email or call me: Ashley Da Gama, vauxhall200@yahoo.com
Mobile: 0745 328 0420
---
Looking for a Gift idea?

A Railway Runs Through - Goans of British East Africa, 1865 - 1980. By Selma Carvalho.
Order a signed copy delivered to anywhere in the world safely and securely. Buy
using PayPal or debit/credit card.
http://www.britishgoanproject.com/research/
---
This Space Can be Yours!
Become a Goan Voice UK Sponsor
eddie.fernandes@gmail.com
---
HELP A POOR CHILD
a little help gives a lot of hope

Sponsor A Child. Make A Donation. Be A Volunteer
web: www.helpapoorchild.com
email: info@helpapoorchild.com
---
Goan Association (UK)


76 Middleton Avenue,
Greenford, Middlesex, UB6 8BS
Tel: 020 8723 1322
Email:goanassociationuk@gmail.com
Website at http://www.goauk.com
---
Department of NRI Affairs, Govt. of Goa

You need to register to access the site. Some of the links: Press Releases; Indian Embassies; Handbook for Non Resident Goans; Scholarship Programme for Diaspora Children, Eminent Goans, Konkani Dictionary etc.… Go to http://www.nri.goa.gov.in/

---
Eternal Wedding Films


Capture your wedding memories on DVD HD 1080p. Discreetly recorded using multiple cameras

Web: www.eternalweddingfilms.co.uk 020 8866 0815

E-mail: info@eternalweddingfilms.co.uk 07841 383709

---
Findall Publications: Download Free App


To download the Free FA Goa App, your Visa to a fun-filled holiday in Goa! Click here.
---
RETIREMENT VILLAGE ... Rent Before U Buy


Celebrate Life!! Anchor your silver years to "Magical Goa". Enjoy world class comfort and security. www.bougainvilla-hermitage.com

---
Nuage Travel

We offer the full range of travel services, specialising in Goa Flights and Worldwide
Holidays. Special rates for the Exposition. ATOL/IATA. Contact Carl Paes on 0203
411 8677, carl@nuagetravel.com
---
Acron

Acron, Goa's leading edge developers since 1988 presents eco-friendly apartments and villas
http://www.acronindia.com.
---
Aerotours

Specialists in Safaris to East & South Africa, Tours to India & Sri Lanka: Mount Kilimanjaro Climb, Mountain Gorilla Trekking, Golden Triangle Tours in India, Kerala Backwaters Tours/Cruises. Contact Nick de Mello / Tel: 905-567-0880 / Toll Free: 1-855-567-0880. Email aerotours@hotmail.ca Website: www.aerosafaris.com
---
For Sale: The Garça Branca - Loutolim, Goa

Rated the #1 B&B in South Goa with a total of 6355 sqms of House, developed Botanical Garden, Aviary, Vegetable Garden and Exotic Plant Nursery. For more details click here.
---
Magdala Center Project in the Holy Land

The Center offers a good standard and affordable hospitality to pilgrims. Financial support is required for exploring and maintaining the Ancient Ruins and the building of a new Centre in Magdala, Galilee. Donate and get involved. Info at http://www.magdalacenter.com/ Enquires to Tony Luis, dalboy1402@yahoo.co.uk
---
Goa Holiday Homes

Do you want comprehensive information on Goa, properties for sale, rent, hotels, flights, Goan music, videos, recipes , beaches and a lot more? Visit www.GoaHolidayHomes.com
---
Tito's – Where Else?!


Tito's, Baga, Goa – Founded in 1971 by the late Tito & Lucille De Souza (ex-Mombasa & Nairobi)Nightclubs, restaurants, supermarkets, apartments, signature villas and more
http://www.titos.in
---
Goa & Worldwide Travel

Flights & Holiday Specialist to Goa (Charter & Scheduled Flights), & Worldwide destinations. Last Minute Holiday Packages to Europe. ABTA , ATOL & IATA Licensed. Contact: SAVIO VIEGAS - Your Personal Travel Consultant. Tel - 020 3598 2397 / 07926191069 Email - savio.viegas@hays-travel.co.uk
---
Travelpack: The tailor-made holiday specialists

Cheap Worldwide Flights Hotline: 0208 585 4080. For Special Offers to Goa see http://www.travelpack.com/dynamic/cheap-flights-to/GOA.GOI