COMMUNITY NEWS
From Cecil Pinto: 47-year-old Reynold D'Silva owns the Silva Screen group, comprising six British companies all dealing with various aspects of mainly Hollywood film music. He now commutes to Los Angeles and New York from his home in London, where he lives with his wife, Avita, [nee Gomes] also Goan but from [Kampala], Uganda, and their three daughters, Kirsty, 14, Olivia, 11, and Annabelle, 10. He has his warehouse-cum-office in Camden Town, North London. Sunday Mid Day, 12 Jan. Text, 845 words at
http://www.mid-day.com/columns/amit_roy/2003/january/41365.htm [The Silva Screen website is at http://www.silvascreen.co.uk/]
From Debrett's People of Today, 2002: Mavis Mathilda Ursula D'SOUZA. Address: LLP Ltd, 69-77 Paul Street, London EC2. Born: March 14, 1947. Daughter of John Paul Martin D'Souza (d 1982), of London, and Mildred Amelia, nee Fernandes (d 1994) Married: 2 June 2001, Colin Roger Dixon. Education: St Joseph's Convent Sch Dar-Es-Salaam Tanzania; Univ of London (LLB). Career: called to the Bar Middle Temple; Ed-In-Chief Lloyd's Law Reports 1995- (ed 1976-94) memb: Bar Assoc of Commerce Fin and Indust 1976, Int Bar Assoc 1986, Inst of Chartered Shipbrokers 1987. Recreation: country walking, reading.
| | |
| --- | --- |
| | The UK's oldest person, Lucy d'Abreu, aged 110, is to be honoured by the Mayor of Waterford, having lived in the city for more than 60 years. She was born at Dharwar in India in May 1892 and attributes her longevity to "my customary sun-downer of brandy and dry ginger ale". Mirror, 14 Jan. 156 words. See also: http://news.bbc.co.uk/1/hi/scotland/2541191.stm |
From Goan Voice-Canada 10 Jan. http://www.goanvoice.ca/mailman/listinfo/goanvoice-ca: Kenya's Mwai Kibaki National Rainbow Coalition has ousted Daniel arap Moi's long-entrenched Kenya African National Union party. President Kibaki has a son, Jimi who is married to Sheryl Anne (nee Vianna) who is the daughter of Alfred Vianna of Mombasa.
From Goan Voice-USA 11 Jan. http://www.goacom.com/mailman/listinfo/goanvoice-usa: Goa Sudharop Award winner and Advisory Board member, Rene Baretto rbarreto@ntlworld.com has embarked on a new venture to promote Konkani by starting the World Konkani Forum group. Membership is open to anyone interested in promoting the language. To learn more about the Konkani Forum group, visit http://groups.yahoo.com/group/konkaniforum

DEATHS
9 Jan: Margao, Goa: MARIA ANTONIETA FERNANDES (Ex-Tanga-Tanzania), relict of Lazarus, mother of Sara/Raymond (Canada), Stanley/Kathy (USA), Suzie/Anthony (Abu-Dhabi).
11 Jan: Halifax, Canada: ALITA DO ROSARIO E CORREIA, wife of Dr Lino, daughter of Palmira and late Abel do Rosario.
15 Jan: Colva, Goa: PATROCINA D'SOUZA, wife of Antonio Joaquim, mother of Alvita/Aires Pinto, Alvaro/Julie & Allegrina/Lui Godinho (UK).
14 Jan. Toronto. JUDITH DESA aged 81. Wife of the late Seby Desa (victim of the 1985 Air India crash). Mother of Peter/Brenda and Mena/Cliff. A Funeral Mass Fri. 17 Jan. St. Francis Xavier Roman Catholic Church (5650 Mavis Rd.). In lieu of flowers, donations in Judith's memory may be directed to the Goan Charitable Organization or St. Francis Xavier Church. From the Toronto Star 15 Jan - forwarded by John J. D'Souza)
15 Jan: Panjim, Goa: JOSEPH ALBERT MENESES, husband of Eslinda, father of Emily/Michael (London), Edgar (US), grandfather of Dr Christing/Dr Barry Witlow (UK), Dr Gerard/Helen (UK)
15 Jan. Morogoro, Tanzania.. MRS EVA TRINDAD. Daughter of late Jacob de Souza of Mbeya Tanzania. Sister of Dolly/Juju Fernandes (London). Condolences to dollys12@hotmail.com
GOA NEWS HEADLINES
mainly from Joel D'Souza in Goa, courtesy of GOACOM
Herald 12 Jan. Fred Noronha on the humble 'kashti' (loin-cloth) that survived drastic saratorial changes in Goa till much into the twentieth century according to fashion designer Wendell Rodricks, who is currently finalizing a project he started two years ago, on the history of Goan clothes across the generation. http://www.goacom.com/news/news2003/jan/msg00030.html
Herald 14 Jan. Goa's Chief Minister, Mr Manohar Parrikar will be away from Goa for ten days beginning from January 14, during which he will speak in a symposium on "Value creation" to be held at St Jose, California Jan. 16 and 17. Mr Parrikar also disclosed that he would be meeting NRIs from Goa in New York and Montreal to see whether some investment could come to Goa.
http://www.oherald.com/newherald/newsBRN.asp?qId=1211&qSec=BRN&qNType=R

Herald 14 Jan. Editorial..…A common complaint is that rich non-residents are not willing to put their money and expertise to start business ventures in Goa…Nonresidents who are accustomed to certain levels of efficiency and rectitudes are appalled by the levels of corruption. Nothing moves unless bribes are paid at every level. When the Chief Minister and Goan ministers go abroad, they have no compunctions over accepting the very lavish hospitality of Goans abroad. But when these resident Goans in turn seek the help of the politicians for setting up some enterprise, they are treated very rudely. There is of course no guarantee that the minister whom they wined and dined with will be in power any longer.
http://www.oherald.com/newherald/newsEDN.asp?qId=327&qSec=EDN&qNType=R
India Today 20 Jan. Reaching Goa was never so easy, what with the Konkan Railway Corporation Limited (KRCL) successfully running a 150 kmph superfast train between Mumbai and Goa-India's fastest train ever. Barrelling down between Roha, near Mumbai, and Madgaon, Goa, during its track-rattling 150-kmph trials, the train crunched the 442-km distance in half-from the existing eight hours to just over three-and-a-half hours.

IN THE NEWS
1 Jan. BBC. Cabinet papers just released from 1972 reveal how the Conservative Government of the time tried to find a remote island home for thousands of Ugandan Asians who eventually settled in Britain. In the end some of the 80,000 Ugandan Asians went to Canada and South Africa, while 25,000 were taken in by Britain. 637 words. http://news.bbc.co.uk/1/hi/uk/2619049.stm
Jan. 2003. Archives Of Disease In Childhood. (UK). Vol.88 No.1, 2003, pages 34-37. Postnatal depression and infant growth and development in low income countries: a cohort study from Goa, India. By Vikram Patel, N. De Souza and M. Rodrigues.
| | |
| --- | --- |
| | 4 Jan. Lancet (UK). Vol. 361, No. 9351, pages 33-39. Efficacy and cost-effectiveness of drug and psychological treatments for common mental disorders in general health care in Goa, India. By Vikram Patel, Fiona Dias-Saxena and others http://www.thelancet.com/search/search.isa |
| | | |
| --- | --- | --- |
| | 11 Jan. Western Morning News (Plymouth). Colin and Sue Russell who have helped save the sight of 1,000 people in India will be flying out again today in a bid to help hundreds more. They are taking with them Amanda Wells and Caroline Smith of the town's Leos Club… Thanks to Monarch Airlines, which is giving them a generous excess baggage allowance, their luggage includes clothes, creative handicrafts materials and a suitcase full of pens and pencils. Two folding bicycles will enable the Russells to get about in Goa as they do other charity work…The Russells have been invited to visit a Goan leper hospital. Click here... | |
11 Jan. The Sentinel. Damon Yoxall, operations manager at a Stoke-on-Trent hotel is aiming to cycle more than 500 miles around Goa in aid of the international charity DEBRA, which supports people with a genetic skin blistering condition.
11 Jan. The Independent. Restaurant Review: Ma Goa. Goa's another ravey destination, though this restaurant captures more complex parts of the culture. It's one of the best exponents of the distinctive cooking of the former Portuguese colony. You'll find pork vindaloo made with an essential dash of palm vinegar. Another great dish is chini raan xhacutti - lamb shank slowly cooked with coconut, spices, tomato and palm vinegar. It's family-run and attractively furnished with references to the region's varied influences. 242-244 Upper Richmond Road, London SW15 (020-8780 1767). [The Ma Goa website is at http://www.dine-out.co.uk/magoa/magoa.htm]
14 Jan. Vancouver Sun: Jason Da Silva's film selected for Sundance Film Festival. Olivia's Puzzle, the 12-minute documentary by Jason Da Silva depicts the different lives of two seven-year-old girls: one who lives in Canada, and the other in the village of Aldona, Goa. DaSilva's film has already won first prize at the Chicago International Children's Film Festival. Text of article, 632 words, is at: Click here...
More information on DaSilva and Olivia's Puzzle is available at http://www.oliviaspuzzle.com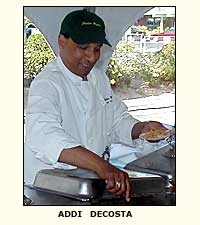 15 Jan. Recordnet (L.A.) …Almost every restaurant slaps the word vindaloo onto a fiery dish that tastes nothing like it would in its place of origin, which is Goa, the former Portuguese enclave on the west coast of India. Goan food is particularly difficult to find here, so we sought out one of the few Goan chefs in the city, Addi Decosta, to explain how vindaloo should be made. A Goan native, Decosta is scandalized by American vindaloos that reek of tomato sauce -- a real no-no. Goan cooks of the past relied on vinegar as a preservative, because they didn't have refrigeration, he says. When tomato sauce is added, the vinegar has to be reduced to balance the acidity. This throws off the flavor.
''Vindaloo is like a pickle, almost,'' Decosta says. ''The longer you keep it, the better it tastes.'' Goan cooks stored their vindaloo in clay pots, reheating it as needed. The standing time also tenderizes tough meat. Pork is traditional in vindaloo, but today more Goan cooks are opting for lighter foods and have switched to shrimp. The difference is seafood has to be cooked and served immediately…
Text at http://www.recordnet.com/daily/lifestyle/articles/011503-l-1.php
15 Jan. Time Out. Gilles Peterson's latest compilation 'Impressed' is ostensibly a look at London's jazz scene in the 1960s…It is also about the birth of Indian-influenced jazz…it's about a Goan guitarist called Amancio D'Silva who used to perform for the Maharajah of Goa… [An obituary on Amancio D'Silva appeared in The Guardian, 13 Sept. 1996, page 16.]
20 Jan. Newsweek International. On a trip to Goa Michael Lyall and his wife, Tracey, were bombarded with time-share offers. At the Royal Goan Beach Club at Benaulim they were offered annual week's stay in a one-bedroom apartment for £6,000. They did some online research when they returned home to Leicester. Before long, they found a Thai owner who was reselling a larger unit in the same resort for only £2,500. "Needless to say, that is what we purchased," says Lyall. Text at
http://www.msnbc.com/news/858220.asp
FORTHCOMING EVENTS
Sun. 26 Jan. at 1.30pm - Commemoration Mass to honour the Birth Anniversary of VEN. FR. AGNELO DE SOUZA will be held at St. Mary's Catholic Church, Wellesley Road, West Croydon. For details please contact Felix DeSouza on 020 8686 1876
Fri 31 Jan: YLGS (Young London Goans Society) Free membership, 18+ Monthly Meet Up 6pm - late. Venue: Los Locos Bar/Restaurant, 24/26 Russell Street, Convent Garden, London WC2. NEW MEMBERS WELCOME! Contact: Alison 07799 586793 alisonbraganza@hotmail.com Marie 07958 373076 marie.pereira@talk21.com or James 0795 739 5811 goateez@yahoo.com
Sat. 8 Feb. Goan Association (UK) Youth Disco at Archbishop Lanfranc School, Mitcham Road, Croydon at 7pm. Music by Nite Life. Entrance £3. Bring your own drinks. Food available. Contact: Lily/Tony D'Souza 020-8644 5310, Wilma/Cedric D'Cruz 020-8954 1596, Leanne Rodrigues 020-8349 3844, Monica Lobo 020-8672 9509, Diego Pinto 020-8767 0663.
Fri. 14 Feb. 7-11pm. Valentine's Disco at the Goan Community Centre, Keston Rd. N17 for the youth aged 13-19.Dance to the sensational DJDEX, sound system by 'Say One Do One' Just £2 inc. food . Great Fun! For tickets contact Dexter 8376 1068/07986 658 0460/Sarita 07961 044 079 email djdex_sosolidcrew@hotmail.com or tickness_2000@hotmail.com
Sat. 15 Feb. From 7pm.Valentine's Night at the Goan Community Centre. Live band 'Nuvel Vision' playing your old tyme favourites remembering 'them good ole days'. Relive that night! Come & join in the game of Mr & Mrs to reveal how well you know (or don't know) your partner! Tickets £5. No objection to bringing your own food & drink. Contact candyrose2000@hotmail.com or Josephine 8967 7471 or Maria 8376 1609.
Sun. 23 Feb. 2.00p.m. Goan Heritage (U.K), formerly Youth Of Goa (U.K). By public demand, second show of the Tiatr "Asro" (Shelter). At Archbishop Lanfranc School Hall, Mitcham Road, Croydon, Surrey. For tickets please contact Felix Gonsalves on 020 8450 2129, Jimmy Braganza on 020 8450 5623, Fr.Oliver Antao on 020 8563 9102
http://www.lanfranc.com/publications/location/map/full_map_tl.htm
Sun 2 Mar. 12.30 pm. Archbishop Lanfranc School, Mitcham Road, Croydon. Spring Gala Dance in aid of St Michael's Parish Hall, Mitcham. Music Maz and Co. Tickets £12 inc. meal. Contact Norma Rodrigues, 0208 764 3664.
http://www.lanfranc.com/publications/location/map/full_map_tl.htm