Hector Jacques
CEO Jacques Whitford International Ltd

---
Jacques Whitford Tel.: (902) 468-7777
Fax: (902) 468-9009 E-mail: hjacques@jacqueswhitford.com

---
PERSONAL DETAILS
Place of birth: Bombay, India
Names of parents: John Augsutine Jacques and Clarina Anna Paula Menezes
Family: Wife Sharon, Children Jason and Jaime.
Sisters: Jessie Soares and Renee Cordeiro
Other family members: Cousins galore in Goa some of who are Cedric, Cosme, Carlos, Celine, Eric, Sunita, Marcellina, Laeticia, Conrad, Joy, Dean, Danny, David Leo, Caesar, and a few others around the world!
Uncles and aunts are: Pascoal Menezes, Matildes Menezes, Cecilia Menezes and Rosemary Menezes.
Education: St Mary's High School Byculla Bombay, Indian Institute of Technology, Bombay and Nova Scotia Technical College, Halifax NS
Links with Goa: I was raised in Goa where I spent all my summers. Parents came from Divar. Grandfather was Cosme Mathias Menezes, the founder of the CMM organisation. I try and visit Goa every few years to visit my Uncle Pascoal Menezes who has been a great influence on my life and all my cousins!
Visits to India: 2002 and every two years or so prior to that. Will be there again in 2005 I suspect!
Hobbies: Work and golf other then family!
Comments: Goan cuisine is the best in the world!
---
PROFESSIONAL PROFILE
HECTOR J. JACQUES, M.Eng., D.Comm. (Hon.), P.Eng., FEIC, FCAE, D. Law (Hon.)
Mr. Jacques received his general certificate of education from the University of Cambridge, his Bachelor's degree in Engineering from the Indian Institute of Technology in Bombay, and his Master's degree in Engineering from the Technical University of Nova Scotia. His post graduate research was in the field of soil mechanics under the able direction of Dr. G.G. Meyerhof.
After graduation from the Technical University of Nova Scotia, Mr. Jacques joined Warnock Hersey Int. Ltd. in 1967 in their Halifax office and in 1969 was appointed Manager of the Geotechnical Services Division for the Atlantic Region.
In 1972, along with Mr. Michael Whitford, Hector Jacques formed Jacques, Whitford and Associates Limited to offer services in the earth sciences disciplines in the Atlantic Region. The firm presently has offices in the four Atlantic Provinces, Quebec, Ontario, Saskatchewan, Alberta, British Columbia, Northwest Territories in Canada; Connecticut, Florida, Maine, Massachusetts, New Hampshire, New York, Pennsylvania and Rhode Island in the USA; Trinidad, W.I., and joint ventures with firms in Argentina, Brunei and Russia. The company currently employs 1000 persons. Mr. Jacques is Chairman and CEO of the Jacques Whitford Group.
In 1983, Mr. Jacques was awarded the Engineering Award for Distinctive Achievement in the Practice of Engineering by the Association of Professional Engineers of Nova Scotia. In 1986, the Association of Consulting Engineers bestowed on him the Beaubien Award, again for Distinctive Achievement in the Practice of Engineering. He was also a recipient of the Canada 125 Anniversary Medal (1993) for his significant contributions to compatriots, community and to Canada. In June 1994, the distinction of Fellow was bestowed on Mr. Jacques by the Engineering Institute of Canada. Under Mr. Jacques' leadership Jacques Whitford was chosen by the Financial Post and Arthur Andersen & Co. as one of Canada's 50 Best Managed Private Companies in 1994. In the May Convocation of 1995, an Honorary Doctorate of Commerce was conferred upon Mr. Jacques by Saint Mary's University, Halifax. Mr. Jacques was named Atlantic Canada Entrepreneur of the Year in October, 1996, and The Canadian Academy of Engineering awarded him the distinction of Fellow in June, 1997. In the May Convocation of 2001, an Honorary Doctorate of Law was conferred upon Mr. Jacques by Acadia University, Wolfville, Nova Scotia and by the University College of Cape Breton, Sydney, Nova Scotia. On June 5, 2001, Mr. Jacques was inducted into the Nova Scotia Business Hall of Fame.
Mr. Jacques serves and has served as a director on numerous boards.

---
2001 Nova Scotia Business Hall of Fame Laureate

Excerpts:
Hector J. Jacques has earned international acclaim in the fields of geotechnology and related earth sciences.
He began his storied career in 1968 as an engineer with Warnock Hersy International Ltd. in Dartmouth. Just four years later, he and business partner Michael Whitford started the Jacques Whitford Group, which today employs more than 800 people. The Jacques Whitford Group is now the largest group of consulting engineers and environmental scientists in Atlantic Canada and one of the largest in Canada. Jacques Whitford has 18 Canadian offices stretching from coast to coast, four offices in the United States, and joint venture offices in Buenos Aires, Trinidad, Moscow, and Brunei.
Full text at http://form.jamainlandns.com/newsite/jacques.html

---
The Innovation Skills Challenge
Jacques Whitford Group - Dartmouth, Nova Scotia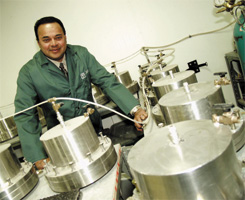 Excerpts:
A dynamic and innovative human resource (HR) strategy has made the Jacques Whitford Group what it is today Ñ an environmental, geotechnical and risk management consulting firm with 900 employees and 30 offices throughout Canada, the United States and around the world.

From the time it was established in Halifax in 1972, co-founder Hector Jacques had a vision: "It's the people in any organization who innovate. And you can't have innovative people if you have a 19th-century human resources policy."
Full text at http://www.acoa.ca/e/library/pamphlets/challenge/profilesp9.shtml

---

Friday, May 31, 2002
Joint Venture Promotes Canadian Environmental Expertise in Southeast Asia
Agreement in Brunei (from left to right): Jacques Whitford International Ltd.'s CEO Hector Jacques; Canada's High Commissioner Neil Reeder; and
Haji & Sons' Managing Director, Musa Adinin.
Excerpt:
When it comes to succeeding in international business, Hector Jacques can't say enough about the importance of teaming up with a good local partner. The CEO of Nova Scotia's Jacques Whitford International Ltd., Hector Jacques, knows what he's talking about. Its ideal partnering experience on a US$18-million environmental clean-up contract in Brunei Darussalam has spurred Jacques Whitford to form a joint-venture company with a local firm. It's a win-win partnership promising to promote Canadian environmental expertise in third countries in the region and to bring technology and skills transfer and employment opportunities to the local community.
Full text at
http://webapps.dfait-maeci.gc.ca/canadexport/view.asp?id=372651&language=E

---
---
Goan Voice designed by
Goacom Insys Pvt. Ltd.
, Goa
and funded by donations from the world-wide Goan Community.
Email:
bindiya@goacom.com