GOAN VOICE DAILY NEWSLETTER WEDNESDAY 17 SEP. 2014
Obituary
Death: Philomena Coelho

13 Sep: Mississauga, Canada. PHILOMENA (ANDRADES) COELHO. Loving mother of Lynne Hay (Bill), Michele Derome (Michael) and LLoyd (Ziggy). Dear grandmother of Brandon, Chelsea, Connor, Jenna, Ryan, Zachary, Timothy and Christopher. Survived by brother, Oscar (Martine) and Edgar (Trish) and sisters Monica Lukenda (Brian), Joyce Landry (Ron), Hazel Ankenbrand (Fred), Yvonne Gandhi and Audrey Charlebois (Kevin). Friends may visit on Friday from 6-9 at the Turner & Porter "Peel" Chapel 2180 Hurontario St., Mississauga. Funeral service to be held in the Chapel on Saturday September 20, 2014 at 11:00 a.m. [Info: Pompie Gois]. For further details click here
---
Death: Joseph Figueredo

15 Sep: Montreal. JOSEPH FIGUEREDO. Born 1931. Predeceased by his wife, Sylvia, and his daughter Audrey. He leaves to mourn his children Richard (Felicia) and Michelle (Livio); and grandchildren Danielle, Clara, Eric and Kayleigh. Joseph was a lawyer in India when he immigrated to Canada in 1962. He then qualified as a Chartered Accountant and taught at Vanier College in the Business Administration program. Family will receive condolences at Collins Clarke MacGillivray White Funeral Home. 222 Autoroute 20, Pte. Claire, QC H9S 3X6 on Wednesday, September 17 from 3-5 p.m. and 7-9 p.m. The Funeral Service will be held on Thursday, September 18 at 11 a.m. at St-Thomas Becket, 4320 Ste-Anne, Pierrefonds, QC. A private Burial will take place at a later date. For further details click here
---
News Summary
India should have invaded Goa in 1947: Parrikar


click here
Lambert Mascarenhas honoured with Gomant Vibhushan award. 17 Sep: Navhind Times click here
Goa politicians gripe over Rs.345-crore new airport terminal
16 Sep: IANS. Once vaunted and an object for appropriation of cheap brownie points for Goa's political parties while it was being constructed, Goa's 10-month-young new airport terminal, built at a cost of Rs.345 crore ($56.5 million), is suddenly "nobody's child"… It has now become a political hot potato for being badly planned, tardy, smelly and of defective construction standards with several loose ends and even "unsafe"… The maximum capacity for handling passengers at the old terminal was only 900 passengers per hour, but it was actually handling 2,000 passengers. The new facility built over 64,000 sq. metres has a peak-time capacity of 2,750 passengers per hour… click here
UK: New Event announcement: Uganda Reunion

Sun: 19 Oct. From 12:00 noon. 42nd Anniversary Uganda Reunion. Archbishop Lanfranc School, Mitcham Road, Croydon, CR9 3AS. Dancing to the sounds of Maz 'n' Co. Application Forms have been sent to members. If you are interested get in touch with us. As usual members will be given first preference. Tickets £17.00 each including meal. For tickets contact: John on 020 8764 2430; Filu on 020 8658 1317; Sabby on 07956 545 461or 020 8802 0690; Lloyd on 07968309347; Xavier on 07988674111; Phone or text Juliette on 07958 537314; Leslie on 07803 294 187; Phone or text Francisco De Souza on 07766 144 347. For the flyer, click here
Portuguese entrepreneurs keen to set up shop in Goa
17 Sep: The Hindu. Three Portuguese companies, engaged in mould accessories, mould making and industrial waste management, and at present on a two-city mission in India, have evinced keen interest in understanding the business environment in Goa… The opportunities stressed upon during the meeting, included waste management, tourism, sustainable ship-building, light engineering and even the subjects of training of machinists was broached… . click here
Sydney: GOA NSW celebrates World Goa Day

17 Sep: Indian Sun (Australia). By Amelia Pereira The Goan Overseas Association (GOA) NSW celebrated WORLD GOA DAY on Sunday, 17 August 2014. The GOA NSW has been organising this event since 2006… there was a house full of over 450 young and old enjoying the many culinary delights and music… 11 specialty food stalls with delicacies like Sorpotel , Chorice Pao , Recheado Bangdo, Alle Belle, Goa Sausages, Bebinca, Doce and Dodol… Malcolm Britto and Roy Rosario of Margao fame entertained the gathering with their music… The Bingo full house was won by 92-year-old Rita… click here
Ministry of Tourism to focus on development of 50 tourist circuit
16 Sep: The Ministry of Tourism (MoT), Government of India has identified 50 tourist circuits for development, which includes Cruise Tourism for Goa, Shripad Yesso Naik, Minister for Tourism, Government of India, announced … The Minister said that India will be positioned as a global brand by making travel hassle-free and user-friendly through implementation of E-Visa that will be introduced in a phased manner at nine airports in India, including Goa, very shortly… suggestions included cost of visa and its link to reciprocity, simplifying visa form and procedures … click here
Melbourne: Goa Grande!

17 Sep: Indian Sun (Australia). On 16 August, Melbourne witnessed its grandest World Goa Day celebrations to date. More than 450 Goans and their friends got together to celebrate in an event organised by Golden Events Management (GEM)… Master of Ceremonies was Mr Alan D'Cruz ... Dinner of pea rice and tomato pulao, roast beef, eggplant, salads etc etc, they also served Goan Pork Sorpotel and Chicken Xacuti to everyone's delight. Mrs Lidia Martins performed the Kotti Dance. Natasha Rodrigues and Dilip Chico also entertained the crowd … Regretfully, many people missed out on World Goa Day as they left their booking for the last moment… click here
About TIME Goa tourism goes online
16 Sep: Times of India. The Goa tourism department will soon connect with all registered hotels in the state through a software called TIME to collect details of guests staying in these hotels on a daily basis… The system has another important feature. Presently, hotels have to fill a separate Form C for foreign guests. TIME has a feature whereby it can extract the required information from Form 11 to complete Form C… click here
'Why is Goa dirty', foreign travel agents pop the question

16 Sep: Herald. Why is the place dirty? This seemingly innocuous question, popped to the Herald reporter on the sidelines of a meeting of Armenian tour operators, has the potential to be the biggest party pooper for Goa's tourism. Anna Sargsyan, reservation manager of Air Arabia said that Goa as a place was wonderful and she felt safe here. The five star hotels were fantastic and then came the big BUT. "I have reservations with the level of cleanliness at certain places… We have Indians living in Armenia and they don't behave like this"… A delegation of 24 tour operators from Kazakhstan and Armenia are presently in the State for seven days on a familiarisation trip … click here
Dustbins every 100m on beaches, promises campaign
16 Sep: Times of India. Beaches will now have dustbins every 100m to ensure cleanliness and there will be proper segregation of garbage, too. This will be part of the government initiative to achieve a garbage-free Goa by December 19, next year, chief minister Manohar Parrikar said… The collected garbage will be segregated into biodegradable and non-biodegradable with the bio-degradable waste being converted into compost… click here
Successful Mussel Trial Drives Aquaculture Development in Goa


16 Sep: Fish Site (UK). The successful demonstration of mussel farming in the brackish waters of Goa has built a new path for the development of coastal mariculture in the area… the lack of awareness about the relevant technology among the people was found to be the major cause of poor growth of this sector… The trial farmed Green Mussel (Perna viridis), locally known as "Xinanneo" … The harvest was carried out after a period of six months. Each mussel was sold at a price of Rs.5/piece with an average weight of 33g. Total production cost was around Rs. 14,370. The total returns and the net profit gained were Rs. 28,800 and Rs. 16,510 respectively… click here
London to host Regional NRI Forum next month
16 Sep: Economic Times. London will host its first-ever Regional Pravasi Bharatiya Divas (RPBD) next month for over three days between October 16 and 18. This smaller-scale version of the mega PBD held every January in India, is expected to be inaugurated by External Affairs minister Sushma Swaraj on October 17 at Queen Elizabeth II Conference Centre in Westminster … Discussions will feature on how the Diaspora and the Indian government can leverage each other's strengths to mutual benefit in the framework of India-UK strategic partnership… click here
Auction: John Nicholson, Haslemere, Surrey, UK. 19 Sep.

Lot 1343 – A Christian Mother of Pearl Plaque, Goa or Philippines, 18th Century. 5.25ins diameter. Estimate: £30 - £50.

click here

Lot 1410 – A very good Goanese Jesuit Rosewood Cross inlaid with silver and mother of pearl. 19ins long. Estimate: £300 - £400

click here

Lot 1937 - A superb 17th century Goanese rosewood inlaid cabinet on stand with twelve drawers in four rows of four, with brass escutcheons and drop handles on a stand with two drawers, end supports with uniting stretchers and pierced legs. The cabinet 2ft 5ins wide x 1ft 4ins deep x 1ft 4ins high on a stand 2ft 7ins high. Estimate: £12,000 - £15,000. click here.
Weekly Weather & Exchange Rates
17 Sep: Goa Met.. Weather: Max = 31.2. Min = 24.0. Rainfall: 3.9 mm
For the Meteorological Office (UK) Five day forecast for Goa, click here.
Exchange rates (Xcom): &pound = 99.18; $ = 60.95; $Can = 55.55; Euro = 78.98; $Aus= 55.38.
GOAN VOICE DAILY NEWSLETTER TUESDAY 16 SEP. 2014
Obituary
Death: Santana Gomes
8th Sep: Croydon, London, UK. SANTANA GOMES, (Ex Mombasa and Nairobi). Son of late Domingoes and Maria Candida Gomes (Tivim, Goa), Loving husband of late Zia (nee Almeida), brother of Ruby (late Charlie) De Mello (Tivim-Goa), Adrian (Irene) Gomes (Quebec), Christopher (late Estefania) Gomes, (London) and brother- in- law of Dr John (Nalini) Almeida (London). Funeral details to follow. Condolences to email
---
Death: Rosa (May) DeSouza

11 Sep: Markham, Toronto. ROSA MARIA (MAY) DESOUZA. Passed away peacefully, just eight months short of her 100th birthday. Cherished wife of late Nicholas (Nic) DeSouza , Beloved mother of Boris (Marietta), Roland, Wesley (Bridget) and Sherrie (Steve). May was much loved by her grandchildren, great-grandchildren and friends. Visitation will be held on Tuesday Sep 16 from 6 to 9 pm at Chapel Ridge Funeral Home
8911 Woodbine Avenue, 
Markham, ON L3R 5G1. Funeral Mass will be held on Wednesday September 17 at 11 am at Prince of Peace Catholic Church, 265 Alton Towers Circle, Scarborough, ON M1V 4E7. Cremation to follow (Private). No flowers by request. If you wish, donations could be made to May's favourite charity: Don Bosco's , 510, rue du Québec, Sherbrooke, QC JIH 3L8. Condolences to click here.
---
Death: Edwin Fernandes
14 Sep: Toronto. EDWIN FERNANDES, Beloved husband of the late Edith Fernandes, father of Kevin (Cheryl), Denise (Calvin Rodgers), Wendy (Dommy Rodrigues) and Serena (Patrick Rosario). Grandfather of Adam, Abraham, Kimberly, Leanne, Joshua and Kaitlyn. Brother of Roque Fernandes (Karachi), May D'Costa (Canada) and June Fernandes (Canada). Viewing: Friday, Sep 19, 5 PM - 9 PM Turner and Porter Funeral Home 1981 Dundas St. West Mississauga ON, L5K 1R2. Mass: – Saturday, Sep 20, @ 10:30 AM St. John of the Cross Catholic Church 6890 Glen Erin Drive, Mississauga, Ontario Cemetery: Assumption Catholic Cemetery, 6933 Tomken Road Mississauga, ON L5T 1N4. [Info: Pompie Gois]. For further details click here
---
News Summary
Video: Jean-Pierre Braganza London Fashion Week

15 Sep: Eshe Ynke. A short visual of my favourite garments from Jean-Pierre Braganza's SS15 collection showcased at London Fashion Week. click here
15 Sep: LExpress (France). La marque Jean-pierre Braganza présentait sa collection printemps-été 2015 lors des défilés Femme de Londres. Découvrez toutes les photos de son défilé.,, 30 photos. click here
For a profile of Braganza, click here.
Video: Who the f*** is Fanny???
12 Sep: Ronaldo Coria. Only the Goans will understand … 3m. 08s. click here
15 Sep: Finding Fanny's Deepika Padukone lashes out at India's 'leading' newspaper for showing her cleavage video click here
Mumbai: Rs 425 crore scam: 'Michael Ferreira & kin under lens'

15 Sep: Times of India. The Economic Offences Wing (EOW) of the city police probing a cheating case of Rs 425 crore involving marketing firm QNet has said that the entire family of Michael Ferreira, winner of the World Amateur Billiards Championship is under the scanner for their alleged role in the cheating case. An EOW officer said: "We have found that Ferreira's wife and two children had also received money through QNet and its sister agencies." This comes two days after Ferreira's former daughter-in-law was arrested on Friday for her alleged role in the QNet case … Ferreira (76) has filed an anticipatory bail plea along with seven other suspects. The court hearing is scheduled to come up on Monday… click here
For the Wikipedia profile of Michael Ferreira, click here
UK: Rabi Martins: Parliamentary candidates go head-to-head on Friday
15 Sep: Watford Observer. The Liberal Democrat parliamentary candidate hustings will take place on Friday. The candidates will state their cases before members of the party who will then vote on who to put forward for the General Election in May next year … Veteran councillor Rabi Martins, who represents the central ward on Watford Borough Council, is challenging for the candidacy… The retired business consultant has stated he will try and convince the party "having an excellent MP and an excellent mayor would be an unbeatable dream team"… an announcement would be made after the hustings on Friday. click here
Hot money out of Goan realty market

15 Sep: Herald. The state is a popular spot for tourists, attracting increasing number of visitors from all over the country as well as the world. This has resulted in some staying for extended periods of time and others taking a conscious decision to settle in Goa. This resulted in an increase in the demand for the several apartments that were being constructed around the state… The ban on mining however punched a big hole in the balloon… Inflated prices, slow appreciation in property has resulted in the speculator moving away … 200- 300 flats are empty on the beach belt… Only PIO and NRE looking to invest in flats currently… 851 words. click here
Editorial: Will tourists continue to be fleeced and the same chaos prevails this season?
15 Sep: Herald. Apart from tourism stakeholders, touts, drug peddlers and dependents, the rest of Goa must be dreading another tourist season which is on the anvil. Dreading, because tourist season has come to mean excruciatingly blaring music festivals, traffic chaos, indiscipline tourists, garbage and sheer chaos… touts perennially lead unsuspecting tourists to hotels of their choice … exorbitant taxi fares in Goa … Food and Drug administration inspectors should check the quality of food served … The selling point of Goa's tourism services should be competitive pricing and efficiency of services… 810 words. click here
Football: 'White Pele' sets foot in Goa

16 Sep: Navhind Times. Brazilian football legend Zico arrived in the state and was received amid much fanfare at the Dabolim airport on Monday. He will be unveiled as the manager of Football Club Goa, the state's franchise in the forthcoming Indian Super League, on Tuesday. The 61-year-old Arthur Antunes Coimbra, nicknamed 'White Pele,' reached Goa along with Dempo SC's Brazilian midfielder Roberto Mendes Silva (Beto) … fans thronged the international arrival terminal to catch a glimpse of the former footballer, one of the all-time greats in the game… click here
Video: Goa 365. click here
'Sandra from Bandra' to 'Oh Fanny re': The changing face of Christians in films
12 Sep: Hindustan Times. As Catholic priests, caring matrons and fun-loving secretaries with plunging necklines, Christian characters from Bollywood (and others too) have endeared themselves to us. For most parts, they come across as warm and fun-loving people. But that's where, many would argue, the problem lies - in stereotyping a community… You will see them in far more professions than nursing and as secretaries. Yet, for years, popular cinema, has typecast them. But winds of change are quite perceivable and so is the representation of a community… 1258 words + photos. click here
Shripad Naik to work to extend sound ban deadline

16 Sep: Times of India. In what could be music to the ears of the tourism industry in Goa, Union tourism minister Shripad Naik agreed that 10pm is too early to stop playing music in the state and promised to try and extend the deadline to midnight. Addressing tourism industry stakeholders, Naik said the central government will move a petition before the Supreme Court to review the sound ban especially in tourism destinations like Goa… He also assured that the long-pending demand of the tourism industry for visa on arrival will be implemented shortly… Naik tried to brush aside the topic of 'pub culture' in Goa and said that the recent controversy will not have any bearing on tourist arrivals in the state… 550 words. click here
3-4 million global pilgrims to attend St Xavier's exposition
16 Sep: Navhind Times. Union Minister of State for Tourism and Culture, Shripad Naik, Monday said that the Centre is expecting around 30-40 lakh pilgrims from all over the world for the exposition of the sacred relics of St Francis Xavier in Goa… Naik said that the Centre has already started preparations for the decennial event and significant action has been taken with regard to the publicity and branding for the exposition, which will be held from November onwards… click here
Auction: Mallams Ltd. Cheltenham. UK. 18 Sep.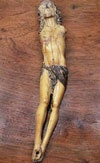 Lot 309: A group of four Goan/Indo Portuguese teakwood figures with original polychrome paint, 18th/19th Century, largest 20cm. Estimate: £250 - £350.

click here

Lot 310 – A Goan/Indo Portuguese carved ivory figure of Madonna, 17th Century, 16.5cm tall. Estimate: £1,500 - £2,000

click here

Lot 311 – A 17th century Indo-Portuguese ivory crucifix, 28cm. Estimate: £2,000 - £3,000. click here.
Database of Indian expatriates in UAE planned
14 Sep: Khaleej Times (UAE). Indian missions in the UAE are working on a mechanism to compile the database of Indian expatriates in the UAE, senior officials of the Indian missions said at the Indian States' Conference on Saturday… Francis D'Souza, deputy chief minister of Goa, stated that about 25 million Indians are believed to be living overseas… click here
GOAN VOICE DAILY NEWSLETTER MONDAY 15 SEP. 2014
Obituary
Death: Elvidio Diniz

5 Sep: Mullavaddo, Assolna, Goa: ELVIDIO OLAVO VIDALITO BERNADO DINIZ. Born 1946. (Ex Tanzania &USA). He is survived by Sara Otto-Diniz, wife of 39 years; children Cecilia Diniz Behn (Kurtis Diniz Behn) of Golden, CO and Gabriel Bernard Diniz of Los Angeles, CA; mother Argentina C. Diniz of Goa, India; sisters Lia Diniz Pocrnich and Elzimira Diniz Mackenzie (David Mackenzie) … Elvidio grew up in Dar-es-Salaam, Tanzania. In 1964, he came to the United States to attend Catholic University in Washington, DC where he majored in civil engineering… In 1981, Elvidio launched his own water resources engineering firm, Resource Technology Inc. He loved fishing on a lake in Ontario. He was a soccer player, coach, and indiscriminate fan of the beautiful game. Elvidio was buried on September 6, 2014 in Goa. A memorial Mass will be held at Risen Savior Catholic Community on September 20, 2014 at 10:00 am. The New Mexico Section of the American Society of Civil Engineers has set up a scholarship in his name and will match all donations. The checks should be written to: ASCE Memorial Fund and sent to 5030 Justin Drive NW, Albuquerque, NM 87114. [Summary from Albuquerque Journal, 14 Sep 2014, page B4. For full text, For further details click here
For Elvidio Diniz's professional profile, click here.
---
News Summary
Selma Carvalho examines the latest sex exploitation case in Rotherham, UK


click here
For the Rotherham report, click here
Supermarket at your fingertips
14 Sep: Navhind Times. Shopping as an everyday chore can often be a mundane and tiresome experience, especially for those who have a day job. But what if someone could do this for you and deliver all your shopping requirements right at your doorstep at your convenience and put an end to all your troubles? Well, that's exactly what Goa's first online supermarket 'Urbanration' specialises in and therefore it is aptly called the 'supermarket for busy people'… 1143 words. click here
For the Urbanration website, click here
Gail Da Silva stands as First Runner Up at Miss United Continent 2014!

14 Sep: World News Report. The vivacious Gail Nicole Da Silva won all the hearts in Ecuador while contesting for Miss United Continent 2014. She is placed as the first runner up. Miss Dominican Republic Geisha Montes de Oca won the title … Gail has had a very successful pageant, with the National Costume win days ago. At the finale the Miss Photogenic title too was conferred upon Gail! If the aim of the pageant is to unite people from different parts of the world, Gail has certainly done a great job as she has made friends with a lot of people from all over. With her charming personality and warm heart, Gail has reflected India in the best light, and India is proud of her! …

click here

Video: Miss Continentes Unidos 2014 - Momento de Coronación. Gail is crowned at 2m. 21s.

click here

For a profile of Gail, click here.
Prompt help from airport staff saves cardiac arrest patient
14 Sep: Times of India. Goan resident Steven Fernandes' family will never complain about Mumbai's don't-care attitude and infamous traffic. On September 5, when 75-year-old Fernandes collapsed at the city's new international Terminal 2, the airport medical team revived him two times before transporting him to a hospital for a bypass surgery within the golden hour… Fernandes, who had a stent fitted in one of his arteries a decade ago had returned from the US after a month-long break via Frankfurt… click here
Girl stabs lover while sitting pillion on his motorbike

12 Sep: InGoaNews. In a bizarre case of a love story gone tragic early Friday morning, a Ponda girl allegedly stabbed her lover in his back while riding pillion on his motorbike. The girl, Sarita Govekar, however managed to abscond from the site while the victim boy turned to the Ponda police station for help. Later in the day she was arrested by the police. He mustered the strength and drove to the Ponda police station where policemen were shocked at his condition and rushed him to the district hospital at Ponda where the doctors administered preliminary treatment and rushed him to the Goa Medical College and Hospital at Bambolim. The boy was stabbed just below his neck in the back, Ponda police who are investigating the case said… 1m. 22s. click here
2nd rabies survivor in country
14 Sep. Hindustan Times. In what doctors claim to be only the second case in the country where a rabies patient has survived, the Command Hospital has managed to bring back a comatose 16-year-old suffering from the disease to consciousness… The first case of a survivor was reported in April this year at the Goa Medical College. The research paper regarding it was published in the Journal of Clinical Sciences by Dr Aaron de Souza and Professor SN Madhusudana … . click here
15 Apr. 2014: Journal of the Neurological Sciences. Survival from rabies encephalitis. By Aaron de Souza, Shampur Narayan Madhusudana click here
Football: Brandon Fernandes is expected to play in the I-League this season

14 Sep: Goal. Brandon Fernandes is close to signing for Sporting Clube de Goa after the midfielder has begun training with the Goan club for the last couple of days… Having trained at South Africa's ASD Capetown Academy for two years, Fernandes also appeared for trials with at least English clubs, namely Reading, Leicester City and Sunderland… . click here
14 Sep: Times of India. Brandon Fernandes checks in … click here
15 Sep: Times of India ASD (South Africa) object to Brandon's move to Goa … click here.
Clube Nacional roof, wall collapses
15 Sep: Herald. A major portion of the roof and a wall of Clube Nacional, the oldest social club in Goa collapsed on Sunday afternoon damaging three shops on the ground floor. No casualties were reported in the incident at the Clube which otherwise is always teeming with visitors. The Clube, incidentally, is also shut on Sunday… The loss is estimated to be around several lakhs of rupees… click here
Auctions: Boxes – 17 – 18 Sep: UK

17 Sep: Jefferys, Lostwithiel, Cornwall, UK. Lot 187 – Ivory Casket, 19th Century. Finely engraved Indo-Portuguese foliate engraved rectangular needlework casket, (requiring restoration) 12`` width.

click here

18 Sep: Bamfords, Bakewell. UK. Lot 1111 – An Indo-Portuguese hardwood and ebonised rectangular lace box, hinged moulded top, pierced brass escutcheon and carrying handles, skirted base, 62cm wide. Estimate: £300 - £400.

click here

18 Sep: Mellors & Kirk, Nottingham, UK. Lot 1066 – An Indo Portuguese ivory inlaid wood box with penwork detail, the lid inlaid with floral centre and spandrels in trailing borders, the sides with upright stylised leaves to all four corners, iron lock and strap hinges, applied brass rosettes, 33.5cm w, c1700. Estimate: £400 - £600. click here.
Retaining wall collapses, road caves in at Dona Paula
14 Sep: Herald. Friday night Dona Paula residents had a miraculous escape as the retaining wall of the National Institute of Oceanography to Dona Paula Jetty road collapsed due to the massive road and sewerage works undertaken by the Goa State Infrastructure Development Corporation. Till Saturday evening, work was going on with JCB machines loading the mud into trucks to try and clear the debris. However, due to the digging, the retaining walls in other parts have considerably weakened and could collapse, given the rains over the past 10 days… click here
Video: Goa 365. click here
GOAN VOICE DAILY NEWSLETTER SUNDAY 14 SEP. 2014
News Summary
Meet Our New Sponsor: Da Gama Cars

We offer convenient, reliable and luxurious transport for Weddings. For the website, click here. For the Facebook page, click here. Please feel free to email or call me: Ashley Da Gama, vauxhall200@yahoo.com Mobile: 0745 328 0420
The Light House managers may have made some mistakes here
14 Sep: Herald. Head of El-Shaddai where the couple worked says they were 'stressed and wanted to get out' … Children of Light House came to them after they left, because they knew them … Contrary to the version of Light House on their website, El-Shaddai claims they aren't associated with Light House, UK … click here
Childrens Homes: Does Goa care about them?

13 Sep: The Goan. … Goa still hasn't learned a lesson from the paedophilia scandals of the 90s … There have been media reports regarding the illegal children's houses and NGOs have been crying themselves hoarse for a while now, but yet the department concerned, women and child development, has not yet woken up to the fact that this is a serious issue… a few of them are operated by foreign nationals, especially in the northern coastal belt… 1338 words. click here
82 cases of child abuse registered in three months across Goa
13 Sep: Times of India. Eighty-two cases of child abuse were registered in a span of three months at different police stations in the state. The highest number of cases was of sexual abuse, followed by physical abuse and so on. The Goa state commission for protection of child rights (GSCPCR), in its report, also pointed out other child abuse cases such as missing children, kidnapping and verbal abuse… click here
Panaji is an open urinal

13 Sep: The Goan. The public toilet at KTC bus stand has no water. The stench is unbearable and its surrounding is filthy. This leaves the commuters with no choice but to relieve oneself in public. But the Sulabh at KTC is not the only black dot in the capital city. People all over the city urinate in the open inconveniencing others… It's almost 30 months since Chief Minister, Manohar Parrikar has taken over the governance of the State, but the stench from Panaji's public places has not gone… there is no place left in the capital city where people have not stopped for urinating… women find it uncomfortable to see men taking a leak out in the open … 1309 words. click here
Goa Foundation to challenge High Court order on renewal of mining leases
14 Sep: Times of India. Goa Foundation, the NGO that took the state government to the Supreme Court over illegal mining in the state, will approach the Supreme Court (SC) again, this time to challenge a high court order that directs the state to renew 27 mining leases that have paid stamp duty. "It is the responsibility of the state government to challenge the high court order, but since the state government isn't doing so, we have decided to approach the apex court," Goa Foundation's director Claude Alvares said … click here
VS Gaitonde: A silent portrait

14 Sep: Mumbai Mirror. As New York's Guggenheim Museum preps for a VS Gaitonde retrospective, the curator-collector community - and his buddies - chew over what makes him the poster boy of modern Indian art… An oil on canvas by him fetched Rs 23.7 cr at Christie's … Born in 1924 in Nagpur to Goan parents, Gaitonde was an infant when his father, who worked in a printing press, moved to their ancestral village. It's here in Goa that he spent the first five years before they moved to Mumbai … click here
V. S. Gaitonde: Painting as Process, Painting as Life: Guggenheim Museum. October 24, 2014–February 11, 2015, click here
For the Wikipedia profile of Gaitonde, click here.
Lambert Mascarenhas: The musings, moods & memories of Goa's jolly good fellow
14 Sep: Times of India. Lambert Mascarenhas completes hundred illustrious summers in the sun this Wednesday, but neither has his patriotic spirit withered nor has the love for his homeland faded. He has witnessed it first hand — Goa colonized and then set free. TOI joins the rest of Goa in taking its hat off to the charismatic centurion who made the pen his sword… 1265 words + photo. click here
Auction: Cheffins, Cambridge, UK: 18 Sep. 2014

Lot 712 - A 17th century Indo Portuguese (IP) ivory figure of Christ crucified, Estimate (E): £500 - £700 Lot 713 - A 17th century IP ivory figure of Christ crucified, E: £600 - £900 Lot 714 - A 17th century IP ivory figure of Christ crucified, E: £800 - £1,200 Lot 715 - A 17th century Goan ivory Madonna and Child, E: £1,800 - £2,500 Lot 716 - A 17th century Goan ivory figure of the Madonna at prayer, E: £1,500 - £2,000 Lot 717 - A late 18th/early 19th century ivory figure of Christ crucified, E: £400 - £600 Lot 719 - An 18th century IP nautilus shell powder flask, E: £2,500 - £3,500 Lot 723 - An 18th century IP ivory reclining figure of the penitent Magdalene, E: £400 - £600 Lot 724 - An 18th century IP ivory kneeling angel, E: £400 - £600 Lot 725 - An 18th century IP ivory Madonna, E: £800 - £1,200 Lot 726 - Four 18th/19th century IP wooden figures, E: £250 - £400 Lot 727 - An 18th century IP silver navette shaped vessel, E: £350 - £500 Lot 728 - Three 19th century IP polychrome wood figures, E: £150 - £250 Lot 729 - Three 19th century IP polychrome wooden figures, E: £180 - £250 click here
Domestic charters join the marriage bandwagon in Goa
13 Sep: The Goan on Saturday. Marriage ceremonies in 5-star hotels in Goa have given a boost to domestic charters in India. This is literally resulting in a new business segment which didn't exist in India till a few years ago… There are a number of operators who are helping customers book private luxury jets within India to travel to Goa. Wedding celebrations account for a huge share of such jets coming to Goa… click here
GOAN VOICE DAILY NEWSLETTER SATURDAY 13 SEP. 2014
News Summary
K: New Event Announcement: Loon Cocktail Party

U. Fri. 3 Oct: From 17:00. Loon Cocktail Party. Come join the fun, wear your disco threads, the DJ will provide the beats. Watch live performances and Enjoy cheapest drinks. Entry tickets for £20 with Starter + Buffet. Lots more surprise to be unfolded at the Indian Gymkhana Club, Thornbury Ave, Osterley, Middlesex TW7 4NQ. For cheapest transport after party contract in advance to Lourenco/Ondrej: loon.entertainment@gmail.com or phone 07741280994, For the flyer, click here
New look for airport urged
12 Sep: Herald. Airport advisory chairman and South Goa MP Narendra Sawaikar has directed airport officials to beautify the Dabolim international airport by displaying tourism-related posters and murals ... Dabolim MLA Mauvin Godinho said he had highlighted three observations during the meeting. " I advised airport officials to keep the toilets and airport clean, to put up signage inside the airport and to beautify the departure lounge with murals and paintings with tourism-related posters." … click here
Suella Fernandes: Boris Johnson's parliamentary fate to be decided at Ruislip hustings

12 Sep: The Guardian. On Friday night members of Conservative association for Uxbridge and Ruislip will pick their favoured candidate … Johnson is up against three other contenders: David Simmonds; Simon Dudley and Suella Fernandes, a Harrow-born barrister… click here
13 Sep: Daily Telegraph. Boris Johnson selected to stand for Tories in Uxbridge and South Ruislip. click here
Suella Fernandes is the daughter of Uma Fernandes and Christie Fernandes, (ex- Nairobi - Dr Ribeiro School - Class of '63). For a profile of her, click here.
Bangalore attracts maximum NRI real estate investment – survey
12 Sep: Indian property developers are anticipating a 35% surge in enquiries from NRI-based purchasers as compared to last year about 18% … As per the ASSOCHAM recent findings, Bangalore is the most favourite property investment destination for NRIs followed by Ahmedabad (2nd), Pune (3rd), Chennai (4th), Goa (5th), Delhi (6th) and Dehradun (7th). The majority of real estate developers said the NRI traffic is coming primarily from the UAE, U.S., Singapore, Australia, UK, Canada and South Africa… click here
Adv. Radharao Gracias: A Goan First

12 Sep: Herald. I recently came across a Facebook post saying "we are Indians first and Goans next". It sounds terribly wrong to me, politically, legally, historically and geographically too… In 1961 the Portuguese were driven out and Goa came to be part of the Republic of India. And thus Goans became Indians. And throughout these happenings, the only thing constant is we have been Goans. And Goans we shall always be… (Radharao F. Gracias is a senior Trial Court Advocate). 1044 words. click here
Football Robert Pires insists his move to FC Goa is not motivated by money
12 Sep: Daily Mail (UK). Arsenal legend Robert Pires insists signing for Goa in the inaugural Indian Super League is not motivated by money. Pires spent six highly successful seasons at Arsenal where he won two Premier League titles, including the 2003-2004 Invincibles, and three FA Cups… Media in his home country and accused the midfielder of moving to India purely for financial gain. The former Gunner has hit back, dismissing those claims as 'bitter' and 'jealousy', insisting his move is for a 'human experience', to help discover a new culture… click here
Prosecutors Are Pushing Prison Time for Dinesh D'Souza

11 Sep: New York Times. Saying that Dinesh D'Souza had not yet accepted responsibility for his crime, prosecutors asked a federal judge in Manhattan on Wednesday to sentence the best-selling conservative author and filmmaker to 10 to 16 months in prison for violating campaign finance laws… Mr. D'Souza is scheduled Sept. 23 to be sentenced for illegally making donations through straw donors to the 2012 United States Senate campaign … Mr. D'Souza, in a letter urged the judge to sentence him to community service. "No good purpose would be served by locking me up," he wrote… click here
For a Wikipedia profile of Dinesh D'souza, click here
It is refreshing to see new faces emerge on the Konkani stage
12 Sep: Herald. "So who's the new girl acting in this drama? She has a very strong character," are some of the comments one can hear as they head out from a tiatr. There is a lot of unexplored young talent and very few are selected for the stage. To achieve bigger dreams, one has to start somewhere… Though youngsters want to act in tiatrs, very few make it in acting… However, there is not enough encouragement when it comes to young girls taking up acting in tiatrs… click here
Pope may declare Joseph Vaz saint during visit next year

12 Sep: Minneapolis Star Tribune. Pope Francis may make Joseph Vaz, the 17th century priest a saint during his trip to Sri Lanka next year, making good on his promise to give Asia more saints as models for the faithful, officials said Friday. Francis plans to visit the island nation Jan. 13-15 and then travel onto the Philippines … The archbishop of Colombo, Cardinal Malcolm Ranjith, said he hoped that the Vatican would give final approval to the sainthood case of the Rev. Joseph Vaz so that Francis himself could celebrate the canonization Mass at Colombo's Galle Face Green… Vaz was born in Goa, India, in 1651 but chose to work in Sri Lanka amid persecution of Catholics by Dutch colonial rulers, who were Calvinists. Vaz is credited with having revived the Catholic faith in the country, using disguises and learning the local Sinhala and Tamil languages to meet secretly with underground Catholics. He died in 1711 … click here
For the Wikipedia profile of Blessed Joseph Vaz, click here
From Goan Voice 26 Aug 2014: … The possibility of Blessed Vaz attaining sainthood soon assumes significance following the three-day visit of Pope Francis to Sri Lanka on January 13, 14 and 15 next year… click here.
Well water in Goa beach villages has worms: minister
12 Sep: IANS. Well water in tourism-oriented coastal Goan villages is so bad that it is infested with worms, Public Works Department Minister Sudin Dhavalikar said Friday. "In Calangute, if you put your hand in the water, germs cling on to your hands," said Dhavalikar, whose ministry is responsible for collection, treatment and water distribution across the state… click here
Video: Russia: Julia went to Goa on holiday for ten days and remained for three years

7 Sep: First Channel (Russia). … According to statistics, now every 4th Russian suffers from holiday depression … they dream of their next holiday … Julia went to Goa on holiday for ten days, and remained for three years. Something happened to this girl after a week - she suddenly hated the old life, the Moscow office and even her old surroundings. "Why should I look out the window when I can sit under a palm tree and watch the ocean? Once I arrived, I realized that I wanted my whole life was a journey. I did not want to leave," says Julia… click here
Goa: Best Place, Best Taste
31 Aug: Global Indian. Goa is the epi-centre of all things fun in the months of winter. From cute little beach shacks, bakeries, cafes, wild parties, flea markets to some of the most exotic food in North, South and Old Goa. You could very well be spoilt for choice. Rohit Kumar takes note of the food and places in Goa that soothes her soul… 2630 words. click here
GOAN VOICE DAILY NEWSLETTER FRIDAY 12 SEP. 2014
Obituary
Death: John Saldanha

8 Sep: London, UK. JOHN SALDANHA (ex-Nairobi) passed away peacefully one month short of his 100th birthday. Husband to the late Hilda, loving father to late Patzie (Luis) and Lorraine (late George), grandfather to Yvonne, Joanne (Paul) and Louise (Blaine), great-grandfather to Lauren, James, Isabella and Ethan. Funeral to take place on Wednesday, 17th September 2014 at 10.00 a.m. at St. Erconwald's Church, 112 Carlton Avenue East, Wembley, Middx. HA9 8NB, followed by cremation at Hendon Crematorium, Holders Hill Road, London NW7 1NB. No flowers please but if you wish to make a donation please consider the Goan Welfare Society UK, "The Firs", 17 Firs Drive, Cranford, Middx. TW5 9TA. Condolence to email
---
News Summary
Jacintha Saldanha inquest: nurse had no history of psychiatric illness

12 Sep The Guardian. A nurse found hanged after an Australian radio station made a hoax call to a hospital treating the Duchess of Cambridge had no history of depression or psychiatric illness, her tearful husband told an inquest. Jacintha Saldanha, 46, who worked at the King Edward VII hospital in London, was found dead in her nursing accommodation three days after taking the call from two DJs impersonating the Queen and the Prince of Wales and inquiring after the health of the duchess … Her husband, Benedict Barboza, broke down as the coroner, Fiona Wilcox, asked whether, to his knowledge, his wife had suffered any psychiatric illnesses or depression in the past, or had made any attempt to harm herself. Wiping away tears, the accountant replied: "No." … click here
For the Jacintha Saldanha Wikipedia profile, click here
£313 & up -- Fly to Goa from London & Manchester (Return)
11 Sep: Fly.com has found direct flights to Goa from £293, return, with Thomas Cook. Flights depart from London Gatwick between 9 November and 22 December and from Manchester between 2 December and 24 December. Select the link for some of the best fares, or use the search box to find prices for your specific dates… click here
Sari gown helped Gail Nicole win best national costume title

11 Sep: Indian Express. Goa-based model Gail Nicole Da Silva, who was placed third in the Femina Miss India 2014 contest, bagged the best National Costume title at Miss United Continent 2014, thanks to the innovative dome-style sari designed by Melvin Noronha… The first and second runner-ups are Miss Panama, and Miss Mexico, respectively… The final round of the pageant is scheduled to take place in Guayaquil, Ecuador Sep 13… click here
Swindon: Honda staff fears over agency move
11 Sep: Swindon Advertiser. More than 100 positions at Honda in Swindon are being redistributed and contracted to an agency, in a move branded 'immoral' by one insider… The South Marston Distribution Centre (SDC), which currently performs a number of services for the car manufacturer, around the corner in Thornhill Road, is said to be filling the logistics positions with agency staff… Text + comments
Comment by John Trollston ... "SDC is staffed at the lowest levels by 99% Goan Indians so expect more.." click here
Rowena Pinto: Widespread Use of Flavoured Tobacco Among Ontario Youth

10 Sep: Market Wired (Canada). Bolstered by new data showing flavoured tobacco product use remains high among Ontario teens, the Ontario Campaign for Action on Tobacco (OCAT) is calling on the provincial government to ban all flavours in these products… "Today's data clearly shows immediate government action is needed to eliminate flavoured tobacco products once and for all," said Rowena Pinto, Vice President of Public Affairs and Strategic Initiatives of the Canadian Cancer Society's Ontario Division … click here
Rowena was born in Montreal though her grandparents were from Goa and her father grew up in Pakistan. For her professional profile, click here
No High Court relief on dual citizenship
12 Sep: Herald. The High Court on Thursday refused to grant interim relief to the government on the dual citizenship issue, in which the Judicial magistrate first class, Panjim had ordered the Crime Branch to register an FIR against two MLAs and two police officers, over the dual nationality issue and the subsequent issuance of show cause notices against three officers… click here
'JMFC erred in dual nationality case'. 12 Sep: Times of India. In a petition filed before the High Court, the crime branch has alleged that an unreasoned order was passed by the judicial magistrate first class (JMFC) court, Panaji, directing registering of first information report (FIR) in the dual citizenship case… click here
Video: UK: Pat Buckley – Fundraiser for AIDS orphanage in Goa

click here
Football: Christians unite for World Cup in India
12 Sep: Times of India. The decennial exposition of the sacred relics of St Francis Xavier at Old Goa, will see Christian teams from around the world participate in Expo 2014 Unity World Cup. At least a couple of World Cuppers from Brazil's 1998 and 2002 squads are preparing for a trip to India, along with teams from Germany, Portugal, Egypt, Nigeria, Sri Lanka, Italy, Australia, New Zealand, China and Malaysia. Plans are also afoot to get teams from the Vatican and Spain to confirm their participation. The Expo 2014 Unity World Cup is being organized by John Paul II Foundation For Sport, an ecclesiastical body of the archdiocese… Goa has been entrusted with the responsibility of hosting the semifinals and final … click here
Movie review: Finding Fanny

11 Sep: New York Times. Dimple Kapadia's prosthetic butt is emblematic of Homi Adajania's botched comedy, "Finding Fanny." As Rosie, the busybody queen of a backwater Goa town, Ms. Kapadia steers clear of caricature and even milks some humor out of the unfunny script. Why, then, does Mr. Adajania saddle her with a padded rear? The answer is simple: He doesn't really know Rosie or her compatriots, whom he puts in a rusty blue Dodge and sends bumping through Goa in search of the town postman's lost love. click here
Finding Fanny Exclusive Video: Watch the sneak peak of the deleted scenes of the movie 11 Sep: As we eagerly await the release of the absurdly entertaining movie Finding Fanny, the makers of the film have released a video which is an exclusive sneak peak of the deleted scenes from the film… 3m. 07s. click here
Goa's tourism makeover aims to go beyond just a new logo and branding
11 Sep: DNA. Nikhil Desai, managing director, Goa Tourism Development Corporation says, "Goa is developing the best system of integrated beach-cleaning, whereby within three months, the beaches in Goa could be comparable to the best in the world," Beach safety would be the primary focus with patrolling extended up to midnight and adequate life guards being allotted for every beach… It is difficult to critique what the minister or the top Bureaucrats say. Of course, drug peddling in Goa has to be stopped, but the undercurrent of the new campaign has to be taken with a pinch of salt… click here
Avanilaya: Goa's Best Kept Secret Luxury Villa

11 Sep: About.com. Avanilaya is so private that from the outside, there are no signs that it exists… It is a 24 acre paradise… Meaning "earth abode", Avanilaya is a place where nature is nurtured and protected from human destruction… The three villas at Avanilaya were originally built by Loulou Van Damme, a free-spirited, sixty-something eminent hotelier and interior designer of Belgian descent. The property was sold to its current Goan owner in 2011… Avanilaya is located in the Goa hinterland near Aldona village … Text + 8 photos. click here
UK: Forthcoming Events

Sat. 13 Sep. 3pm at Oakington Manor School, Manor Drive, Wembley Middlesex HA9 6NF – (note change of venue) Wembley. Tiatr. Pilar Fathers & Goan Chaplaincy UK present yet another blockbuster, Oxir Rosteanchi Rundhai. (The Breadth of Narrow Roads). Written and directed by Rev. Fr. Lucas Rodrigues. The star-laden cast include well known artistes from Goa and London. For tickets contact: Edna: 07590 419942, Caetano: 07882 009063, S. Caetano: 07949 206355, Fr. Lucas 07523 453631. For a synopsis and the flyer, click here.
Sat. 13 Sep. GOA Senior Citizens Trip to the seaside. Venue to be confirmed. Pick-up points, Greenford (Bridge Hotel bus stop), Tooting Broadway (Library) & Norbury BR Station. Tickets: Members £12, Non-members £15. Contacts: Chloe De Mendonca 020 8384 0272, Norma Menezes-Rahim 020 8771 4457, Flavio Gracias 020 8723 1322. For the flyer, click here.
Sun. 14 Sep. 3pm at Archbishop Lanfranc School Hall, Croydon. Tiatr. Pilar Fathers & Goan Chaplaincy UK present yet another blockbuster, Oxir Rosteanchi Rundhai. (The Breadth of Narrow Roads). Written and directed by Rev. Fr. Lucas Rodrigues. The star-laden cast include well known artistes from Goa and London. For tickets contact: Nina Pinto 020 8767 0663, Fr. Lucas 07523 453631. For a synopsis and the flyer, click here.
Sat 20 Sep. 5.30pm at Villiers High School, Southall. Tiatr. Pilar Fathers & Goan Chaplaincy UK present yet another blockbuster, Oxir Rosteanchi Rundhai. (The Breadth of Narrow Roads). Written and directed by Rev. Fr. Lucas Rodrigues. The star-laden cast include well known artistes from Goa and London. For tickets contact: Nazareth D'Souza (Southall) 07737 166254, Assumption: 07440 578191, Antonio Mendes: 07882 749692, Fr. Lucas 07523 453631. For a synopsis and the flyer, click here.
Sun. 21 Sep. GOA Trook Tournament at ATC Hall, 192 Merton Road, South Wimbledon. Entries close on 9/9/14. Draw at 11.30am. Contact: Jacinto Fernandes 020 8542 5427. For the flyer, click here.
Sun. 21 Sep. 12.00pm & 6.00pm at Wyvern Theatre, Swindon. Tiatr. Pilar Fathers & Goan Chaplaincy UK present yet another blockbuster, Oxir Rosteanchi Rundhai. (The Breadth of Narrow Roads). Written and directed by Rev. Fr. Lucas Rodrigues. The star-laden cast include well known artistes from Goa and London. For tickets please contact: Monty: 07840 135121, Luis (Reading) 07831 160766, Fr. Lucas 07523 453631. For a synopsis and the flyer, click here.
Sat. 27 Sept. St Jacinto Feast - At the Cranford Community College, High Street, Cranford, Middlesex TW5 9PD. Celebration of Mass at 3.00 pm sharp, followed by an afternoon of celebration and dancing to the sounds of "PRESS PLAY". Snacks and Lunch will be served. For details and tickets please contact Agnelo: 07958504545/ Maria: 02089315185/ Clare: 02085782288/ Marisa: 07877775880 or 07568185022/ For the flyer, click here.
Sun. 5 Oct. Majorda Union (London) request the pleasure of your company at their 31st Celebration of the Festa Da Boa Morte at Woodside High School Hall, White Hart Lane, Wood Green N22 5QJ. The Feast Mass will commence promptly at 1pm, followed by entertainment and dancing to the music of Nite Life. Tickets are great value, priced at £12 (adult) and £6 (children 11 to 16) and include snacks & main meal. Children under 11 accompanied by parents go free. Please book early to avoid any disappointment. For info and tickets, click here
Sat. 25 Oct: Colva Union UK is organising their 41st Anniversary Ball celebrating the Feast of Infant Jesus with holy mass at 4pm at Our Lady Queen of Apostles Church, 15 The Green, Heston, TW5 0RL followed by a social next door. Music will be provided super Goan band isymphony and the buffet will be done by Cordon Bleu Chef Nicholas. Dress to Impress: Blue and Black Formal. Tickets are priced at just £15.00 for adults £7.50 for children under 12 years. Tickets are available from Gabriel 0208 230 7139, Custodio 0203 5390 216, Rose 0208 6770 390, Alfie 0208 7640 353 or Deborah 0208 384 3809. For the flyer, click here.
Sun 26 Oct. Dr. Ribeiro Goan School Alumni (UK) Committee wishes to inform you that an Alumni Memorial Mass & Reunion has been planned at the Archbishop Lanfranc School, Croydon, Surrey. The Memorial Mass, celebrated by former student, Rev. Fr. Tony Fernandes, is scheduled to begin at 12:00 noon followed by the alumni reunion. Dancing to the music of The Mellow Tones. For further details, including venue and ticket, click here.
For Later Events See www.goanvoice.org.uk/events.php
GOAN VOICE DAILY NEWSLETTER THURSDAY 11 SEP. 2014
Obituary
UPDATED: Death: Joachim Paul Lobo
9 Sep: London. JOACHIM PAUL LOBO. (formerly of Baveja Building, Napier Street, Saddar, Karachi). Beloved husband of the late Maria Theresa Lobo, cherished father of Wilma Pereira (Ivan) London, Joel Lobo (Odette) Calgary, Jennifer Martyres (Austin) Peterborough, England and Brian Lobo (Christina) Toronto and loving grandfather of Gavin, Simon, Alexander, Carol, Michelle, Hayley, Carl, Jason, Chloe, Larissa, Brittany and Eldon. Funeral on Friday 19 September at 11.00 a.m. at our Lady of the Angels Church, Carlton Rd, Erith, Kent, Greater London DA8 1DN. Condolences to email
---
Death: Edith Misquita
8 Sep: Toronto. EDITH LUCY MISQUITA. Edith was pre-deceased by her beloved husband, Peter Misquitta, and her sisters, Florence Pereira and Bella Gomes. She will be deeply missed by her children Victor & Jeanne, MaryAnne & Khalid, Daniel & Shazia, and Sean & Irish, and her grandchildren Sapphire, Emerald, Joshua, Benjamin, Matthew, Cajetan & Delilah. Visitation will be held on Saturday, September 13, from 10am-12pm at R.S. Kane Funeral Home – 6150 Yonge Street, Toronto M2M 3W9. Funeral Mass on same day, Saturday, September 13 at 1pm. at Good Shepherd Catholic Church – 21 Simonston Blvd. Thornhill, Ontario, L3T 4R6. Followed by burial at Holy Cross Cemetery – 8361 Yonge St. Thornhill, Ontario, L3T 2C7. [Info: PompieGois].
---
News Summary
Swindon: Appeal success in Goan Hospital workers' race and religious discrimination case

10 Sep: Bindmans LLP. An appeal judge has allowed 51 Goan housekeeping staff at Great Western Hospital in Swindon to proceed with their claims of race and religious discrimination, harassment and victimisation for trade union membership and whistleblowing, against their employer Carillion Services Ltd… 473 words. click here
Employment Appeal Tribunal Win For Carillion Swindon Workers. 5 Sep. GMB. This is a great result for these hospital workers involved in this long running dispute and gives an opportunity to expose Carillion's scandal at Swindon to proper legal scrutiny says GMB… 1679 words. click here
Goa's junket truth: It's all 'tiger prawns' at Winchester, UK
10 Sep: First Post. Notes on a grand scrumptious continental lunch, tiger prawns served as starters and elaborate VIP courtesies extended by the hosts, account for a large chunk of a report compiled by Goa's 'junket' lawmakers filed after returning from a junket to a motocross event in the United Kingdom two years ago … The decision to pull back the funding was wise considering the energies expended by Furtado, BJP MLA from Aldona, Glen Ticlo and Independent MLA from Velim, Benjamin Silva while scripting their delight at seeing the large, seductively curled tiger prawns on a VIP lunch platter during in Winchester, UK, where they had gone to witness FIM Motocross Championship. click here
Kenya: Unbelievable photo, this is former Capital FM's Eve D'souza

10 Sep: Daily Post (Kenya).

click here Kenyan Top media personality Eve D'Souza opens up on why rapists are sick cowards

The Standard (Kenya). Acclaimed as one of the most prolific showbiz personalities, Eve D'Souza, the sassy but shy former radio girl has had her success story told over and over. However, there's more to the extroverted personality than meets the eye. Nine years ago in June 2005, Eve was carjacked and raped by two men. She shares her big plans and how she has moved on from the horrific ordeal…

click here

For the Goan Voice profile of Eve D'Souza, click here.
Three girls rescued from 'auction'
10 Sep: Times of India. The owner of a city 'placement agency' held an 'auction' for three Jharkhand girls, including a minor, intending to sell these trafficked women to the highest bidder in a throwback to the days of slavery, police said… Chawdhary had 'bought' the women from local agents in Jharkhand for Rs 5,000 each but expected to get Rs 50,000 for each of them… The maximum number of women trafficked from Jharkhand are brought to Delhi followed by Mumbai, Pune and Goa… click here
Goa CM returns from Europe, heads straight to work

10 Sep: Times of India. Chief minister Manohar Parrikar returned home on Wednesday from his 10-day tour of Europe. Sources said that soon after his arrival, he drove to the secretariat in Porvorim, where he began clearing files. He was at the secretariat till late evening… Unlike in the past when there used to be much hype over chief ministers going on foreign trips, Parrikar's tour details were virtually kept under wraps, on the grounds that his tour was not at tax-payers' cost… click here
UK: Monarch seeks cuts to pay and pensions
10 Sep: The Times (UK). Monarch Airlines is in talks with unions and the pensions regulator about swingeing cuts to salaries, benefits and retirement payouts as it struggles to stay airborne after the withdrawal of its billionaire Swiss backers… The new team wants to turn Monarch into a budget carrier. Charter flights are to be shed and long-haul destinations, such as Goa and Florida, will be scrapped…
Goa's Church of St Christopher Offers Hope For A Rainy Day

8 Sep: National Geographic Magazine. In 1969, St Christopher, patron saint of travellers, was one of many saints to be declared a legend rather than a historical figure by the Catholic Church. But hope still springs in devotees around the world, not least in Goa's Church of St Christopher, where motor vehicles are blessed on the saint's annual feast day in July… The Church of St Christopher in Thivim, Goa, built in 1627 … The annual feast of St Christopher is celebrated in the Church of St Christopher in Thivim, Bardez, Goa on the last Sunday in July … click here
Mutation process - A hotbed of corruption
11 Sep: Herald. Why is the common man made to wait for months and years and do repeated rounds of the offices of taluka mamlatdars for a mutation when the sons and daughters of VIPs can get it done in a day or two? This is a common refrain that rings out across the offices of the taluka mamlatdars in South Goa in general and Salcete in particular as a huge backlog of 5514 mutation applications stares at the revenue authorities in South Goa… click here
A Clubber's Guide to Goa: The Best Nightlife Hotspots in India's Party Capital

10 Sep: Huffington Post (UK). For decades holiday makers have been flocking to Goa for its vibrant clubs, psychedelic beach parties and ambient live music scene. A favourite since the 60s among the hippy community, many have found themselves returning year after year; in love with the state's almost spiritual approach to partying! I called Goa my home for four months while travelling the country. Here I share my insights of the scene, located in the lively South Indian state… 1732 words + photos. click here
Sri Ram Sene to challenge ban by Goa government
10 Sep: First Post. Right-wing Hindu outfit Sri Ram Sene has decided to challenge the ban imposed on it by the Goa government… The outfit was banned from operating in the state on August 20 by the Manohar Parrikar-led government after the police gave an adverse report about its activities. The outfit's chief, Pramod Muthalik, had recently expressed his intention to set up a base in Goa to "curb the pub culture". The organisation had hit the headlines in 2009 after its members attacked boys and girls at a pub in Mangalore… click here
Now, Goans can have kidney transplant free of cost at GMC

9 Sep: Navhind Times. The hundred per cent success achieved by the urology department of the Goa Medical College in all the nine transplants undertaken in the premier health institution is the good news for the Goans having kidney problems, who can now be sure of getting top class treatment for their illness within the state and that too also free of cost, as per state government policy… click here
UK: TV & RADIO HIGHLIGHTS By Lira Fernandes
DOCUMENTARY: The Report. BBC Radio 4. Thursday 11th Sep. 20:00 to 20:30. Racism in Northern Ireland. Current affairs series combining original insights into major news stories with topical investigations.
FILM: Bombay to Goa. Zee TV (Sky 788). Friday 12th Sep. 00:00 to 03:00. Mala boards a bus to Goa while trying to escape some goons. The bus journey becomes adventurous and comic. Starring: Amitabh Bachchan, 1972, PG, 3 Star.
DOCUMENTARY: Pleasure Zone. Community Channel (Freeview 63), Friday 12th Sep. 23:00 to 00:00. Goa. Kirsten and Andrew travel to Goa to explore the Kama Sutra and to re-discover each other in ways they never thought possible.
FILM: My Friend Pinto. Zee Cinema (Sky 790). Saturday 13th Sep. 15:00 to 17:30, Sweet, honest, and optimistic Michael Pinto has a knack for finding trouble. The search for a childhood friend leads him to the big city, and into an outlandish adventure. 2011, PG.
DOCUMENTARY: Girl Killers. Community Channel (Freeview 63), Monday 15th Sep. 22:00 to 23:00. In India, the burden of having girls means many are often killed at birth. We follow the difficult lives of those who survive the practice.
DOCUMENTARY: Britain on Film. BBC 4. Tuesday 16th Sep, 01:15 to 01:45. The Spirit of the Sixties. Offering more fascinating depictions of the 1960s as witnessed by the cameras of the Rank Organisation, Britain on Film continues with an absorbing exploration of the prevailing attitudes and values that shaped our society … an increasingly multicultural nation was embracing more cosmopolitan tastes.
ARTS: Free Thinking. BBC Radio Three. Tuesday 16th Sep. 22:00 to 22:45. In a conversation held in front of an audience at the studio at Birmingham Repertory Theatre, actor and comedian Lenny Henry talks to Matthew Sweet about performing on radio, stage and screen and his campaign for better black, Asian and minority ethnic representation.
Paypal
Goan Voice UK is funded by donations, events advertising and sponsorship from the world-wide Goan Community.



PayPal for secure credit card transactions

---
Classifieds
For details click here
Sponsors
Lyra Productions (Videographer)

Capturing the heart of the moment into a wedding film that is timeless and
original. http://www.lyra-productions.co.uk/ Tel: 07805426269 (Blaise Fernandes)
---
Ed's Bar Services

We cater for all occasions, large or small. Edward Alvares. Personal Licence holder.
Full Licenced Bar. We provide proper glasses every time. For all your requirements contact Edward Alvares. Mob: 07507595603
email: edsbarservices@hotmail.co.uk
---
South East England: Da Gama Cars


We offer convenient, reliable and luxurious transport for Weddings. For the website,
click here. For the Facebook page, click
here. Please feel free to email or call me: Ashley Da Gama, vauxhall200@yahoo.com
Mobile: 0745 328 0420
---
Looking for a Gift idea?

A Railway Runs Through - Goans of British East Africa, 1865 - 1980. By Selma Carvalho.
Order a signed copy delivered to anywhere in the world safely and securely. Buy
using PayPal or debit/credit card.
http://www.britishgoanproject.com/research/
---
This Space Can be Yours!
Become a Goan Voice UK Sponsor
eddie.fernandes@gmail.com
---
HELP A POOR CHILD
a little help gives a lot of hope

Sponsor A Child. Make A Donation. Be A Volunteer
web: www.helpapoorchild.com
email: info@helpapoorchild.com
---
Goan Association (UK)


76 Middleton Avenue,
Greenford, Middlesex, UB6 8BS
Tel: 020 8723 1322
Email:goanassociationuk@gmail.com
Website at http://www.goauk.com
---
Department of NRI Affairs, Govt. of Goa

You need to register to access the site. Some of the links: Press Releases; Indian Embassies; Handbook for Non Resident Goans; Scholarship Programme for Diaspora Children, Eminent Goans, Konkani Dictionary etc.… Go to http://www.nri.goa.gov.in/

---
Eternal Wedding Films


Capture your wedding memories on DVD HD 1080p. Discreetly recorded using multiple cameras

Web: www.eternalweddingfilms.co.uk 020 8866 0815

E-mail: info@eternalweddingfilms.co.uk 07841 383709

---
Findall Publications: Download Free App


To download the Free FA Goa App, your Visa to a fun-filled holiday in Goa! Click here.
---
RETIREMENT VILLAGE ... Rent Before U Buy


Celebrate Life!! Anchor your silver years to "Magical Goa". Enjoy world class comfort and security. www.bougainvilla-hermitage.com

---
Nuage Travel

We offer the full range of travel services, specialising in Goa Flights and Worldwide
Holidays. Special rates for the Exposition. ATOL/IATA. Contact Carl Paes on 0203
411 8677, carl@nuagetravel.com
---
Acron

Acron, Goa's leading edge developers since 1988 presents eco-friendly apartments and villas
http://www.acronindia.com.
---
Aerotours

Specialists in Safaris to East & South Africa, Tours to India & Sri Lanka: Mount Kilimanjaro Climb, Mountain Gorilla Trekking, Golden Triangle Tours in India, Kerala Backwaters Tours/Cruises. Contact Nick de Mello / Tel: 905-567-0880 / Toll Free: 1-855-567-0880. Email aerotours@hotmail.ca Website: www.aerosafaris.com
---
For Sale: The Garça Branca - Loutolim, Goa

Rated the #1 B&B in South Goa with a total of 6355 sqms of House, developed Botanical Garden, Aviary, Vegetable Garden and Exotic Plant Nursery. For more details click here.
---
Magdala Center Project in the Holy Land

The Center offers a good standard and affordable hospitality to pilgrims. Financial support is required for exploring and maintaining the Ancient Ruins and the building of a new Centre in Magdala, Galilee. Donate and get involved. Info at http://www.magdalacenter.com/ Enquires to Tony Luis, dalboy1402@yahoo.co.uk
---
Goa Holiday Homes

Do you want comprehensive information on Goa, properties for sale, rent, hotels, flights, Goan music, videos, recipes , beaches and a lot more? Visit www.GoaHolidayHomes.com
---
Tito's – Where Else?!


Tito's, Baga, Goa – Founded in 1971 by the late Tito & Lucille De Souza (ex-Mombasa & Nairobi)Nightclubs, restaurants, supermarkets, apartments, signature villas and more
http://www.titos.in
---
Goa & Worldwide Travel

Flights & Holiday Specialist to Goa (Charter & Scheduled Flights), & Worldwide destinations. Last Minute Holiday Packages to Europe. ABTA , ATOL & IATA Licensed. Contact: SAVIO VIEGAS - Your Personal Travel Consultant. Tel - 020 3598 2397 / 07926191069 Email - savio.viegas@hays-travel.co.uk
---
Travelpack: The tailor-made holiday specialists

Cheap Worldwide Flights Hotline: 0208 585 4080. For Special Offers to Goa see http://www.travelpack.com/dynamic/cheap-flights-to/GOA.GOI